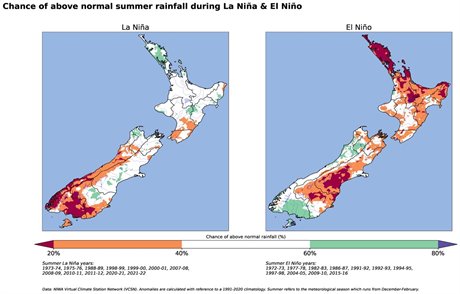 Media release - NIWA - Over the past three years, you may have heard about the rare 'triple-dip' La Niña that had its hands on the steering wheel of Mother Nature's car.
It had strong influences on New Zealand's weather patterns - we experienced atmospheric rivers, ex-tropical cyclones, floods, droughts, record temperatures, high humidity, and multiple marine heatwaves.
But now a new driver is coming to town: El Niño.
El Niño and La Niña are opposite phases of a natural global climate cycle. Typically, during an El Niño event, there is a weakening or reversal of the trade winds that blow across the equatorial Pacific. This allows warm water to move eastwards, creating hotter than average ocean temperatures towards South America.
The opposite happens during La Niña, with unusually warm water pooling in the western Pacific, near Papua New Guinea.
The ocean-atmosphere system seesaws between these states every few years, changing which side of the Pacific will experience more clouds, rainfall, and storms. This has a domino effect on global weather patterns.
In 2015, an exceptionally strong El Niño took hold in the Pacific Ocean, triggering a cascade of damaging weather. Indonesia was plunged into a deep drought that fuelled severe wildfires, while heavy rains inundated the Horn of Africa. Closer to home, several New Zealand regions experienced a very dry spring and start to summer, prompting concerns of drought. The event also helped make 2016 the planet's hottest year on record.
During the last three years, a significant amount of warm water built up in the western Pacific Ocean and is now sloshing eastward, so El Niño is building once again.
Markedly, ocean temperatures in key regions are warmer in June 2023 than they were during June in previous strong El Niño episodes, such as in 1997 and 1982. This raises concerns for worldwide weather pattern changes over the coming year, which all depends on location. The closer a place is to the tropical Pacific, the more immediate and likely the effects will be. For a country like New Zealand which sits outside of the tropics, the effects of El Niño can take some time to build and often don't fully set in until spring or summer.
So, what should we expect?
During El Niño, New Zealand tends to experience more southerly winds during winter. While that hasn't been the case so far, a sharp cold snap along with strong winds will soon arrive on our shores and last into early next week. During late winter, spring, and summer, southwesterly-to-westerly winds may become more prominent.
This increases the chance for drier-than-normal conditions in eastern areas of the country and tends to cause more rain in the west. Such winds can also contribute to increased wildfire risk because of drying grounds in key agricultural regions, along with occasional hot air masses coming in from Australia.
El Niño has been associated with historically significant droughts in New Zealand, such as in 1972-73, 1982-83, 1997-98, and 2009-10, but it doesn't always bring one.
The important thing is to monitor the situation carefully and have an action plan in case this we do get unusually dry weather later in 2023 or in 2024.