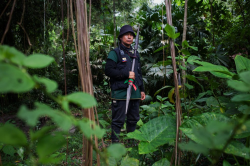 23 Jun 22 - Deep in Ecuador's Amazon rainforest, indigenous leader Marcelo Lucitante deftly climbs a tree and attaches a camera trap, camouflaged among thick jungle foliage, to record footage of trespassing illegal gold miners.

21 Jun 22 - Environmental activist Francia Marquez will become Colombia's first Black vice president in a government that was elected on a platform of radical change.

14 Jun 22 - The Penuelas reservoir in central Chile was until twenty years ago the main source of water for the city of Valparaiso, holding enough water for 38,000 Olympic-size swimming pools. Water for only two pools now remains.

3 Jun 22 - Munich Re has announced the launch of TreeTrust, a corporate venture that brokers and structures high-quality afforestation projects for carbon removal.

30 May 22 - German judges and experts have arrived at the edge of a melting glacier high up in the Peruvian Andes to examine a complaint made by a local farmer who accuses energy giant RWE of threatening his home by contributing to global warming.

21 Apr 22 - More than 170,000 students in Brazil are set to receive healthy, sustainable school meals, packed with plant-based foods.

20 Apr 22 - Indigenous lands in the Brazilian Amazon are under constant pressure, and deforestation of these areas has accelerated in recent years.
---
19 Apr 22 - Bolivian startup Quantum Motors makes tiny EVs aimed at the Latin American masses. Will they buy it?
5 Apr 22 - Chile's constitutional convention, underway in Santiago since July 4, 2021, is the first time a country has re-written its foundational document in the wake of the Paris Agreement and comes as the...
23 Mar 22 - Brazil's government has unveiled a series of incentives to spur the production and sustainable use of biomethane, a fuel that can be obtained from recycling urban and rural waste, and that can...
8 Mar 22 - The Amazon rainforest is nearing a tipping point that will see it transform into savannah, according to researchers who have found that the biodiversity hotspot has lost resilience in the past two...
7 Mar 22 - Chile said Saturday it is creating a vast national park to protect hundreds of glaciers that are melting due to climate change.
28 Feb 22 - PANAMA is the latest country to recognize the legal rights of nature, giving environmentalists a new tool to fight ecological harm.
15 Feb 22 - The number of trees cut down in the Brazilian Amazon in January far exceeded deforestation for the same month last year, according to government satellite data.
8 Feb 22 - Hidden behind the Andes in a quiet corner of South America, a formidable generation of former student leaders are putting together one of the world's most exciting progressive movements.
13 Dec 21 - The Mayo River begins in the tropical cloud forests of Northeastern Peru. Where the Andean foothills meet the Amazonian plains, bromeliads, ferns, and mosses grow under palms, tropical hardwoods, and...
2 Dec 21 - Brazilian pulp and paper maker Suzano's (SUZB3.SA) chief executive Walter Schalka said on Wednesday that a market price of $12-$13 dollars per tonne for carbon could support the regeneration of one...
16 Nov 21 - The Chilean government is planning to build a submarine cable to export photovoltaic energy to China, according to Chilean solar energy association.
28 Oct 21 - The first thing Kristine McDivitt Tompkins had to do when she arrived in Chile more than three decades ago was tear down fences. Demolishing 700 kilometers of barbed wire in the rough terrain that...
---