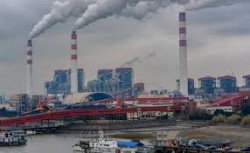 20 Jun 22 - China Friday announced that it will ban new steel, coking, oil refining, cement, and glass projects in key zones to combat climate change by lowering pollution and carbon emissions.

16 Jun 22 - China has made great achievements in carbon reduction, with its carbon dioxide emissions per unit of GDP in 2021 plunging by 50.3 percent from 2005, an official said Wednesday.

10 Jun 22 - Carbon market players are watching closely to see how China's version of carbon credits, the China Certified Emission Reductions (CCER) scheme, will be rebooted.
31 May 22 - By Jeremy Rose | Last month saw the opening of the China-Pacific Island Countries Climate Action Cooperation Centre in Liaocheng City, Shandong Province. It's opening, perhaps not surprisingly, barely rated a mention in the New Zealand and Australian media.

31 May 22 - China's carbon dioxide (CO2) emissions fell by an estimated 1.4% in the first three months of 2022, making it the third quarter in a row of falling emissions.

8 Apr 22 - China's carbon emissions could peak three years ahead of the 2030 government target, according to a report published on 31 March by the Chinese Academy of Engineering (CAE), a state-affiliated think tank.

4 Apr 22 - China's decision to stop funding new coal power projects overseas has been welcomed by climate experts, but they were equally disappointed by Beijing's commitment for projects already under construction, pointing out that this could lead to 300 million tonnes of carbon emissions a year.
---
30 Mar 22 - Late last year, following widespread power shortages, China's leadership repeatedly emphasised the importance of ensuring energy security – a country's ability to secure sufficient and affordable...
28 Mar 22 - China's newly launched national carbon emissions trading system (ETS), the world's largest, needs to raise its game on fraud prevention by imposing steeper penalties on offending companies to deter...
23 Mar 22 - A researcher who helped design China's national carbon market said it will expand into new sectors later than expected, a setback for a key tool in President Xi Jinping's drive to cut the world's...
16 Mar 22 - China's environment ministry has slammed firms for falsifying carbon data, part of the country's efforts to improve data quality as it prepares to expand its national emissions trading scheme into...
7 Mar 22 - China's declining coal industry got a boost on the weekend when Chinese President Xi Jinping called for a "realistic" approach to achieving the country's carbon neutrality goals.
3 Mar 22 - Reaching peak carbon emissions before its 2030 target could help China to avoid more 600,000 deaths from exposure to the most deadly small particles over the following two decades, a study has found.
28 Feb 22 - Despite a crackdown on Bitcoin in China last year, mining the largest cryptocurrency actually got much dirtier and emits around the same amount of CO2 annually as a country the size of Greece, a new...
24 Feb 22 - Contrary to popular belief, China's massive emigration from rural areas to cities has been shown to have a positive effect on China's carbon stocks. Urbanization can even play a role in attaining...
22 Feb 22 - Scientists say that a rapid drop in emissions because of Covid played a key role in record rainfall in China in 2020. The decline in greenhouse gases and small particles called aerosols caused...
11 Feb 22 - China has scrapped an ambitious push for its steel industry to reach maximum carbon emissions by 2025, pushing the deadline back five years in final guidelines published this week.
1 Feb 22 - What is the China Certified Emission Reduction scheme and why is it important for Beijing's carbon neutral goal? The South China Morning Post journalist Yujie Xue explains.
27 Jan 22 - Chinese President Xi Jinping has stated the Asian superpower's low carbon desires must not get in the way of 'normal life'.
---