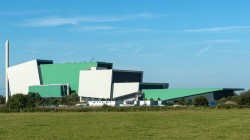 15 Sep 21 - A joint venture between a New Zealand firm and Spanish and Chinese waste technology companies is investigating harvesting energy from South Island landfills.

23 Mar 21 - A waste-to-energy plant in the Norwegian capital could become one of the world's first carbon-negative incinerators, pending a decision from the European Commission to fund a carbon dioxide capture facility there. Environmentalists, for their part, are yet to be convinced.

17 Mar 21 - Ten years ago, Crest Energy got approval to build the country's first tidal power-station. The Kaipara Harbour project has never gone ahead.

26 Aug 20 - Cutting collection of household rubbish to fortnightly instead of weekly would reduce greenhouse gas emissions, the industry says.

20 Aug 20 - If you were to stack up all the electronic waste produced annually around the world it would weigh as much as all the commercial aircrafts ever produced, or 5000 Eiffel towers.

12 Aug 20 - Plastic items including straws, plates and branding stickers on fruit are likely to go the way of single-use plastic bags and be banned.

6 Aug 20 - Construction of New Zealand's first large-scale waste-to-biogas plant shows the country could eliminate greenhouse gas emission caused by food rotting in rubbish dumps, the Bioenergy Association says.
---
30 Jul 20 - A shake-up of the waste management system means six industries will have to take responsibility for their products once consumers have finished with them.
28 Jul 20 - We're bombarded by information on the topic of marine litter and plastic pollution, but how much do we really know about the problem?