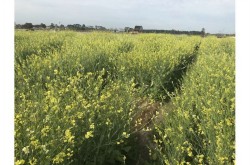 15 Oct 21 - Replacing petroleum-based aviation fuel with sustainable aviation fuel derived from a type of mustard plant can reduce carbon emissions by up to 68%, according to new research from University of Georgia scientist Puneet Dwivedi.

11 Oct 21 - The world's electric grids are creaking under the pressure of volatile fossil-fuel prices and the imperative of weaning the world off polluting energy sources. A solution may be at hand, thanks to an innovative battery that's a cheaper alternative to lithium-ion technology.

30 Sep 21 - For the first time, an interdisciplinary team of scientists collected evidence on how both global problems exacerbate one another, creating a dangerous cycle. The researchers identified three significant ways that the climate change crisis and marine plastic pollution are connected.

30 Sep 21 - WWF has teamed up with Sky to promote their 'Force for Nature' campaign, an effort to repopulate the UK's coasts with carbon-capturing seagrass.

19 Aug 21 - A climate-friendly cement has been developed that produces up to two-thirds fewer carbon emissions during its production than conventional cement.

21 Jul 21 - For decades, researchers around the world have searched for ways to use solar power to generate the key reaction for producing hydrogen as a clean energy source -- splitting water molecules to form hydrogen and oxygen. However, such efforts have mostly failed because doing it well was too costly, and trying to do it at a low cost led to poor performance.

6 Apr 21 - It may come as a surprise, given the extensive body of evidence connecting humans to climate change, that directly-observed proof of the human impact on the climate had still eluded science. That is, until now.
---
30 Mar 21 - Many millions of people − among them some of the world's poorest − will be exposed to potentially lethal temperatures on a routine basis. At worst, the mercury could reach 56deg by 2100.
24 Mar 21 - Save nature, save money. It's a simple argument. Wilderness cleared and ploughed offers us less than nature left alone.
18 Mar 21 - Bottom-trawling for fish releases more carbon dioxide each year than Germany does, yet is not included in national carbon accounts, scientists say.
9 Mar 21 - Five years after a planet-wide vow to reduce carbon emissions, it happened; in 2020, the world's nations pumped only 34 billion tonnes of carbon dioxide into the atmosphere, a drop of 2.6 billion...
9 Mar 21 - Nature-rich sites such as woods and wetlands could be more valuable than farming because of the ecosystem services they provide, scientists say.
26 Feb 21 - More fierce and frequent fires are reducing forest density and tree size and may damage forests' ability to capture carbon in the future, according to a global study.
25 Feb 21 - One of the instigators of an influential climate initiative for big business has gone public with criticism of its target-setting process, saying it does not measure up to its ambition.
19 Feb 21 - International organisations, researchers and data scientists say artificial intelligence and big data are critical to combat years of promises but inadequate action on the climate, biodiversity and...
10 Feb 21 - Misuse of climate models could pose a growing risk to financial markets by giving investors a false sense of certainty over how the physical impacts of climate change will play out, according to the...
12 Jan 21 - New Zealand's average temperatures continue to climb, with latest climate data showing 2020 was one of the country's warmest years on record.
10 Dec 20 - Greenhouse gas emissions reached a new high last year, putting the world on track for an average temperature rise of 3deg, a new United Nations report shows.
10 Dec 20 - There's a serious mismatch between what New Zealand's Government identifies as the most pressing environmental issues, including climate change and freshwater quality, and the investments in...
---