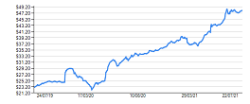 Friday - SPOT NZUs opened at $44.20 bid and $48.65 offered on CommTrade this morning, after last fixing at $48.10

Friday - Climate change talks this year aimed at keeping global warming in check need to consign coal power to history, the British president of the upcoming United Nations' conference says..

Friday - New research confirms Australia's offshore wind resources offer vast potential both for electricity generation and new jobs

Friday - Last week, China announced the launch of its national carbon emissions trading market. How does it work?

Friday - By some estimates, if the 1.2 billion acres of American agricultural land (more than half of the U.S. land base) transitioned towards regenerative farming practices, it could sequester up to 20 percent of the carbon required to reach the Biden administration's goal of fully offsetting America's carbon emissions by 2050.

Thursday - A 100-mile stretch of coral reef in Mexico is now insured just like any other valuable asset. Is this the future of conservation?

Thursday - A group of UK architects, developers and contractors have called for compulsory whole-life carbon assessments of buildings in a bid to tackle "hidden" emissions caused by construction supply chains.
---
Thursday - Madagascar's famine is the first in modern history to be solely caused by global warming, according to Time Magazine.
Thursday - Jeff Bezos got as much morning show coverage in a day as climate change got all last year
Thursday - When it comes to climate change, male consumers may get a bit more of the blame than their female counterparts. Men spend their money on greenhouse gas-emitting goods and services, such as meat and...
Wednesday - Only a small chunk of governments' recovery spending in response to the Covid-19 pandemic has been allocated to clean energy measures, according to the International Energy Agency, with the...
Wednesday - France's parliament yesterday approved a compromise climate bill that was intended to transform travel, housing and industry but which environmental activists said doesn't go fast or far enough to...
Wednesday - New research, using machine learning, helps project how the buildup of greenhouse gases will change clouds in ways that further heat the planet.
Wednesday - In Big Sur, scientists are rescuing the abalone from landslides caused by the Dolan Fire, and moving them to safety in new neighborhoods where "resident abalone" already thrive
Wednesday - For decades, researchers around the world have searched for ways to use solar power to generate the key reaction for producing hydrogen as a clean energy source -- splitting water molecules to form...
Wednesday - Media Release - University of Canterbury engineering researchers are developing a carbon-neutral – even carbon-negative – way to create clean 'green' hydrogen to power our world more sustainably.
Tuesday - People around the world need a "global green deal" that would tackle the climate crisis and restore the natural world as we recover from the Covid-19 pandemic, a group of politicians from the UK,...
Tuesday - Companies are buying carbon offsets like never before. They're also facing unprecedented scrutiny over whether helping to fund green projects elsewhere really makes up for their heat-trapping...
Tuesday - The leading CEOs of the global wind industry have united to call on G20 members to show leadership in the climate crisis by raising national ambitions and urgently laying out concrete plans for...
---