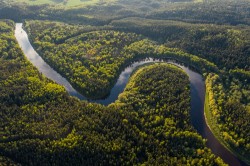 27 Nov 23 - Brazil plans to propose a "huge" fund to pay for the conservation of tropical forests at the United Nations COP28 climate change summit, the country's top climate negotiator said.

23 Nov 23 - In recent years, there has been a growing movement to transform the archipelago into a beacon of sustainability.

22 Nov 23 - Scientists say deforestation is compounding the effects of climate change, threatening to turn parts of the forest into savannah.
14 Nov 23 - In 2022, a Brazilian oil and gas company had 68 places staked out for oil exploration off the South American coast, searching for new reserves while spending $6.9 billion in oil development projects.

30 Oct 23 - Tens of thousands of Bolivian pupils had their classes suspended as schools closed their doors due to air pollution caused by massive forest fires, the education minister.

6 Oct 23 - The impacts of global warming, deforestation and intensified land use are pushing the South American monsoon towards a critical destabilisation point.

2 Oct 23 - As the Northern Hemisphere emerges from the hottest summer on record, South America has taken up the planet's extreme-heat mantle.
---
21 Sep 23 - Brazil is expected to announce revised climate targets this week, as President Luiz Inacio Lula da Silva strengthens a prior pledge made by his predecessor Jair Bolsonaro.
19 Sep 23 - The Brazilian government has agreed to cancel former president Jair Bolsonaro's cuts to its climate ambition and to work on a new improved climate target.
8 Sep 23 - The extreme weather in the south of the country has displaced more than 3,700 people with more flooding anticipated.
23 Aug 23 - Nearly 60% of voters back a push to halt to drilling in Yasuni National Park, a victory for environmental groups.
21 Aug 23 - Brazil has finalised a proposal for the establishment of a cap-and-trade carbon market in a move to curb greenhouse gas emissions and help the administration reach its emissions reduction targets.
11 Aug 23 - The Brazilian city of Belém is hosting the Amazon Summit, which brings together the eight South American countries who share a slice of the Amazon.
10 Aug 23 - The parched shoreline and shrinking depths of Lake Titicaca are prompting growing alarm that an ago-old way of life around South America's largest lake is slipping away as a brutal heat wave wreaks...
8 Aug 23 - Leaders are gathering in Brazil to discuss ways to protect critical rainforest after years of deforestation and threats.
8 Aug 23 - A winter heat wave bringing historically high temperatures to Chile is a "window" to an increasingly warm future, according to scientists.
27 Jul 23 - Drought and erratic rainfall in Honduras is undermining agriculture and pushing young people to migrate in search of a more secure future.
21 Jul 23 - Brazilian President Luiz Inacio Lula da Silva's ambitious pledge to end illegal deforestation of the Amazon rainforest by 2030 is going regional.
18 Jul 23 - After years of underinvestment, reservoir has had to be topped up from estuary, raising health concerns.
---