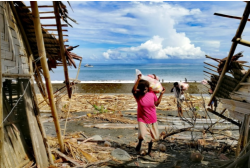 Monday - Vanuatu is asking the International Court of Justice to issue an opinion on the rights of present and future generations to be protected from the adverse effects of climate change.

9 Sep 21 - A NZD$7.2 million Climate Resilient Islands Programme focusing on nature-based solutions to climate change in rural communities in Tonga was launched, in Nuku'alofa on September 7.

24 Aug 21 - Three climate vulnerable Pacific nations have asked the world's governments to agree to aim to make international shipping emissions-free by 2050.

16 Aug 21 - A metal roof sits atop the burned remains of a homestead on the once-lush slopes of Hawaii's Mauna Kea—a dormant volcano and the state's tallest peak—charred cars and motorcycles strewn about as wind-whipped sand and ash blast the scorched landscape.

10 Aug 21 - Global heating above 1.5C will be "catastrophic" for Pacific island nations and could lead to the loss of entire countries due to sea level rise within the century, experts have warned.

17 Jun 21 - Pacific island nations made the case for a carbon price to tackle shipping's climate impact at the UN body responsible for seaborne transport yesterday, but found only tepid support.

16 Jun 21 - In the 1960s and '70s Pago Pago in American Samoa averaged 85 cool nights, that's nights under 23c, per year, now they have just four. The number of days hotter than 32c has gone from nine to about 22.
---
3 Jun 21 - New Zealand tech company CarbonClick has signed up a second international airline to its offsetting programme.
2 Jun 21 - More than one-third of the world's heat deaths each year are due directly to global warming, according to the latest study to calculate the human cost of climate change.
3 May 21 - International agencies Aqualink.org and View into the Blue have donated advanced marine monitoring equipment for deployment in Rarotonga.
27 Apr 21 - The Marshall Islands is calling for a greenhouse levy on gas to speed up the decarbonisation of shipping.
12 Apr 21 - The Marshall and Solomon Islands are calling on the International Maritime Organisation to introduce a US$100 levy on GHG emissions.
22 Feb 21 - Flood walls in Samoa financed by the UN's flagship climate fund are inadequate and could put people in danger, experts warn.
2 Feb 21 - Pacific diplomacy hinges on in-person discussion but web-only meetings have fed a growing dispute over the forum's leadership and purpose.
1 Jul 20 - They contribute only 0.03 per cent of global carbon emissions, but small island developing states, particularly in the Pacific, are at extreme risk to the threats of climate change.
8 Nov 19 - Honolulu mayor Kirk Caldwell wants the city to sue major oil companies for the damage he says they have done to the island of Oahu.
22 Oct 19 - The public champion of the world's largest marine reserve – the Cook Islands' Marae Moana – has said she lost her job managing it because she supported a moratorium on seabed mining in the Pacific.
2 Oct 19 - Whatever happens on the pitches, rugby stars from the Pacific islands face a battle back home to save their ancestral lands from rising sea levels.
25 Sep 19 - A coalition of Pacific island nations wants to raise $500m to make all shipping in the Pacific Ocean zero carbon by the middle of the century.
---