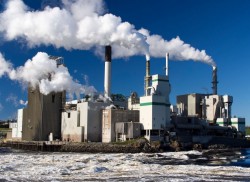 11 Aug 22 - In 1912, the fact that excess carbon released into the atmosphere could warm up the earth was first made public knowledge. Here we are, one hundred ten years later, still wondering what to do about the problem.

8 Aug 22 - Legislators on Capitol Hill will soon vote on the biggest climate crisis bill in U.S. history. It's sparked a lively debate in its northern neighour where Canadians are questioning whether the time has come to tackle big oil.

25 Jul 22 - Canadian studio Icon Architects has released its design for a 31-storey tower in Toronto that, if completed, will be the tallest mass-timber structure in North America.

20 Jun 22 - Prime Minister Han Duck-soo has said that South Korea will actively use nuclear energy to meet its target of carbon neutrality and as a tool for the nation's energy security.

13 Jun 22 - The good news is Prime Minister Justin Trudeau's government is about to begin sending out "climate action incentive payments" directly to households in the four provinces where he imposed his carbon tax.

9 Jun 22 - Canada unveiled Wednesday a national carbon emissions market to help it meet its climate goals by allowing cities, farmers and others to sell credits for CO2 reductions to heavier polluters.

17 May 22 - By the time Pakistani schoolboy Saeed Ali arrived at the hospital in one of the world's hottest cities, his body was shutting down from heatstroke.
---
13 May 22 - The Canadian government is in talks with heavy industrial emitters about ways to ensure Ottawa's planned carbon price increases will remain in place even if Prime Minister Justin Trudeau's Liberal...
27 Apr 22 - Canada has overestimated how much using hydrogen could reduce greenhouse gas emissions over the next decade, potentially jeopardizing Ottawa's ability to meet climate targets, a report from the...
28 Mar 22 - The reason Parliamentary Budget Officer Yves Giroux says most Canadians paying Prime Minister Justin Trudeau's carbon tax are worse off financially, as opposed to the Trudeau government which claims...
17 Mar 22 - The Climate Atlas of Canada is out with a new Indigenous Knowledges component that captures the climate impacts facing First Nations, Métis, and Inuit communities across the country and the solutions...
25 Feb 22 - Architecture studio Adjaye Associates has designed a plant-covered building called Timber House as part of a developement on Toronto's waterfront that will include buildings by Alison Brooks...
18 Feb 22 - The price of European carbon credits - a core holding of two newly launched ETFs - has outperformed popular investments like bitcoin over the past year. Analysts see the price continuing to climb as...
17 Feb 22 - Canada prevailed on Tuesday in a challenge to U.S. solar panel tariffs under the trade pact between Canada, the U.S. and Mexico, its trade minister said on Tuesday, ahead of planned talks with...
11 Feb 22 - The mining industry would see a financial windfall from a global carbon tax, so why does it keep fighting change? That's the contradiction researchers from the University of British Columbia examined...
10 Feb 22 - A company in Toronto is installing North America's biggest solar wall to date, a 7,000-square-foot system located in an industrial area of Rexdale Blvd. in west-end Etobicoke.
3 Feb 22 - Fossil heavyweight TransAlta Corporation has officially filed an application to build a 180-megawatt battery storage facility near one of its hydroelectric projects in Alberta.
26 Jan 22 - The voluntary carbon markets (VCMs) are poised for explosive growth in 2022. At the conclusion of COP26 in Glasgow, 632 of the world's largest 2000 public companies by revenue had announced plans to...
24 Jan 22 - On its tar sands in northern Alberta, Suncor Energy scrapes vast open-pit mines and drills down deep into the ground to extract the viscous bitumen that has turned it into one of the largest energy...
---