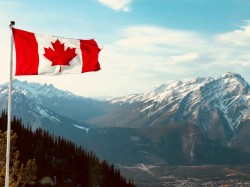 10 Nov 23 - Canada is set to miss its 2030 target to cut carbon emissions by at least 40% below 2005 levels by 2030, according to the latest audit from the commissioner of the environment's office.

13 Sep 23 - In the face of climate change, we've been told forests are our salvation. But scientists believe this summer's wildfires are a sign of a tipping point — with trees a major source of carbon emissions.

25 Aug 23 - The unusually hot and dry weather that drove record-breaking wildfires in eastern Canada was made at least two times more likely by human-caused climate change, according to a new rapid attribution study.

21 Aug 23 - Canada is evacuating residents from the provincial capital city of Yellowknife amid wildfires that have creeped perilously close, threatening to engulf homes across vast swathes of the Northwest Territories.

21 Jul 23 - Smoke from the hundreds of blazes in Canada, has once again drifted across the border into the United States, prompting another round of air quality warnings.

20 Jul 23 - The holy grail for understanding the start of the Anthropocene lies at the bottom of a lake in Canada.

29 Jun 23 - The EU's Copernicus Atmospheric Monitoring Service said wildfires burning through large swathes of eastern and western Canada have released a record 160 million tonnes of carbon.
---
26 Jun 23 - Canada is the first country to deliver a national genetic evaluation aimed at lowering methane emissions.
9 Jun 23 - Canada is on track to experience its most severe wildfire season on record, and it's part of a trend experts say will intensify.
8 Jun 23 - More than a dozen U.S. states were under air-quality alerts on Wednesday as smoke from hundreds of wildfires burning in eastern Canada wafted south, casting a dull gray pallor over the skyline of New...
2 Jun 23 - Canada is facing its most severe early wildfire season on record, with 211 wildfires burning and 82 classified as out of control, the country's minister of public safety said.
31 May 23 - Canada will struggle to meet its ambitious climate target without significant greenhouse gas reductions from Alberta, the nation's highest polluting province.
22 May 23 - Canada will almost certainly fail to meet its target to reduce greenhouse gas emissions by 40 to 45% by 2030 in accordance with the most recent Intergovernmental Panel on Climate Change (IPCC)...
16 May 23 - The starkly beautiful Hudson Bay Lowlands, located between the Canadian Shield and Hudson Bay, are covered in carbon-rich peat and dotted with small ponds as far as the eye can see.
26 Apr 23 - A globetrotting millionaire has calculated his carbon footprint — and then paid $1 million to offset it.
12 Apr 23 - Canadian delegates to the Intergovernmental Panel on Climate Change have called for broader inclusion of Indigenous knowledge in future climate reports.
3 Apr 23 - Canada's environment and climate change minister acknowledged that the average household may eventually pay more for the carbon price than it gets back in rebate payments, but says the Liberal...
21 Mar 23 - The environmental group Greenpeace has filed a complaint with Canada's Competition Bureau against a coalition of the country's six largest oil sands producers for running what they allege is a...
14 Mar 23 - Canadian mass-timber pioneer Michael Green has hit out at architects designing unusually shaped buildings rather than embracing biomaterials in this interview as part of Dezeen's Timber Revolution...
---