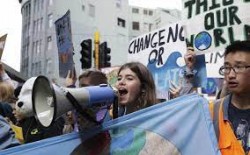 Today 10:30am - Media Release - After nearly an 18 month hiatus, students from all across the country are preparing to strike for their futures once again – this time, on September 23rd. For this strike, a special focus is being placed on the agriculture industry in New Zealand, which accounts for over half of all emissions.

Tuesday - Media Release - UN Secretary-General António Guterres has appointed Simon Stiell as the new Executive Secretary of the United Nations Climate Change Secretariat based in Bonn, Germany. The appointment has been endorsed by the Bureau of the UN Framework Convention on Climate Change (UNFCCC).

Friday - Media Release - A law change to ensure that forestry conversions by overseas investors benefit New Zealand has passed its final reading in Parliament.

1 Aug 22 - Media Release - Cawthron Institute has partnered with Westpac NZ Government Innovation Fund, Port Nelson and forestry company OneFortyOne to launch a seagrass restoration project that aims to fight climate change and improve ecosystem health.

29 Jul 22 - Media Release - On Thursday morning, the Local Government New Zealand (LGNZ) Annual General Meeting passed a remit supporting the Free Fares call for central Government to fund free public transport for under-25's, tertiary students, Community Services Card Holders, and Total Mobility Card holders and their support people.

29 Jul 22 - Media Release - The country's three biggest unions, with a combined membership of 186,000, NZNO Tōpūtanga Tapuhi Kaitiaki o Aotearoa, NZEI Te Riu Roa and the PSA Te Pūkenga Here Tikanga Mahi, are supporting Vote Climate, the campaign to get voters to support local government candidates who will invest in reducing transport emissions.

26 Jul 22 - Media Release - New Zealanders have an increased sense of urgency on the climate crisis and are the most concerned about the impact of climate change seen around the world.
---
22 Jul 22 - Media Release - Mercury is supporting Hamilton start-up Hikotron in its rollout of a New Zealand-made smart AC charging network for electric vehicles.
20 Jul 22 - Media Release - Seasonally adjusted greenhouse gas (GHG) emissions increased 1.1% (205 kilotonnes) in the December 2021 quarter from the September 2021 quarter, Stats NZ said today.
19 Jul 22 - Media Release - The Energy and Resources Minister Dr Megan Woods is celebrating yesterday's launch of two firsts for energy decarbonisation in the transport sector in New Zealand; an electric milk...
13 Jul 22 - Media Release - Global energy and climate leaders are meeting this week at the Sydney Energy Forum, which is co-hosted by the Australian Government and the IEA, to discuss how to scale up and...
11 Jul 22 - Media Release - Southland-based oat milk producer New Zealand Functional Foods is getting new Government backing, with a $6 million investment from the Regional Strategic Partnership Fund, Economic...
7 Jul 22 - Media Release - Key gaps in the South Island's public EV charging network will be closed with support from the Government's Low Emissions Transport Fund (LETF), Minister for Energy and Resources...
29 Jun 22 - Media Release - In the first governmental alliance of its kind, the Pacific nations of Palau, Fiji and Samoa have today announced their opposition to deep sea mining, calling for a moratorium on the...
28 Jun 22 - Media Release - Te Pāti Māori Co-leader Debbie Ngarewa-Packer MP was to travel to Lisbon, Portugal to help build an international coalition against deep sea mining at the United Nations...
27 Jun 22 - Media Release - A new $20 million fund and incubation initiative designed to address the high failure rate of New Zealand startups with a social or environmental purpose has launched
23 Jun 22 - Media Release - Avis New Zealand has added close to 100 electric vehicles (EVs) to its fleet with more to be on boarded in the next two years - making it New Zealand's largest electric car rental...
22 Jun 22 - Media Release - The end-Permian mass extinction is the most severe mass extinction event ever recorded, during which ~80% of marine species went extinct.
17 Jun 22 - Media Release - A new biodiversity market has been launched with the first transaction of biodiversity units between Sanctuary Mountain Maungatautari (the seller) and Profile Group Limited (the...
---