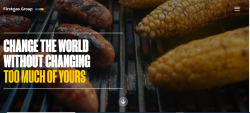 Friday - Firstgas has been ordered by the Advertising Complaints Authority to withdraw an advert that suggested customers could continue to use gas without contributing carbon to the atmosphere.

Thursday - Last week we published an article outlining the concerns of a coalition of zero waste and regenerative farming groups about the potential for biogas development to lock in unsustainable farming practices. Today the Bioenergy Association's executive officer Brian Cox responds.

Tuesday - The leading CEOs of the global wind industry have united to call on G20 members to show leadership in the climate crisis by raising national ambitions and urgently laying out concrete plans for increased wind energy production to replace fossil fuels.

11 Jun 21 - The first three months of this year saw the percentage of carbon spewing, coal-generated electricity double compared to the same period last year.

1 Apr 21 - The value of share offerings in fossil fuel companies has dropped by almost 20 per cent since 2012, while low-carbon companies gained ground in a shift towards clean energy, a report by think-tank Carbon Tracker show.

29 Mar 21 - New Zealand could start using a hydrogen-blended gas by 2030 and 100 per cent "green" hydrogen by mid-century.

29 Mar 21 - Energy is the key to humanity's world domination. Not just the jet fuel that allows us to traverse entire continents in a few hours, or the bombs we build that can blow up entire cities, but the vast amounts of energy we all use every day.
---
26 Mar 21 - Companies getting excited about using hydrogen as a major energy source need to listen to the warnings of experts, the Climate Minister says.
25 Mar 21 - Claims that a new generation of so-called advanced, safe and easier-to-build nuclear reactors (small nuclear power plants) will be vital to combat climate change are an illusion, and the idea should...
15 Mar 21 - Wind farm developer and operator Tilt Renewables is being split between New Zealand's Mercury Energy and Australian investors in a $3 billion deal announced to sharemarkets in both countries this...
12 Mar 21 - The true cost of fossil fuels could be a quarter of the world's' GDP, scientists say.
3 Mar 21 - Ammonia has until now been used chiefly in the fertiliser industry as a way to return nitrogen to the soil. But it also has potential in boosting renewables – both as a replacement for hydrogen in...
3 Mar 21 - United Nations Secretary-General Antonio Guterres on Tuesday called on wealthy nations to end coal use by 2030 so the world can meet its goals to curb global warming, urging G7 nations to make that...
2 Mar 21 - The sheep-and-beef industry says a Government report recognising carbon storage on farms is significant – especially if it opens the door to collecting carbon credits from mature native forests.
25 Feb 21 - Gas companies in Europe and America are looking at using the existing gas network to serve industrial "clusters" of hydrogen users in sectors like chemicals, cement and steelmaking, adopting a...
24 Feb 21 - Electricity generator Mercury noted in its financial update yesterday that the ClimCom draft report is good news for the renewable electricity sector.
23 Feb 21 - Here's the bad news: Unless India opts for a totally new energy policy - a revolutionary switch to a clean future - the world has no chance of avoiding dangerous climate change.
19 Feb 21 - Scroll through all the emojis on your phone, and you'll find a gas pump, an oil drum, and … zero sign of clean energy.
18 Feb 21 - Most of the world's planned hydrogen projects and the biggest chunk of related investments this decade are expected to be in Europe, a new industry report says.
---