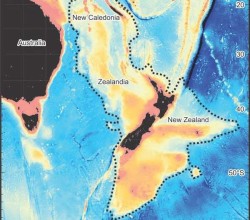 15 Feb 22 - We think of trees and soil as carbon sinks, but the world's oceans hold far larger carbon stocks and are more effective at storing carbon permanently.

27 Jan 22 - Sometimes even a finger-length fish can make all the difference in an ecosystem. As many of the world's wild places confront a double-whammy of a warming climate and vanishing species, new research suggests that predators as small as the lowly sculpin could help dampen ecological turmoil triggered by heatwaves.

20 Sep 21 - Sinking seaweed could sequester a lot of carbon, but researchers are still grappling with basic questions about reliability, scalability and risks.

4 May 21 - The Chagos Archipelago is one of the most remote, seemingly idyllic places on Earth. Coconut-covered sandy beaches with incredible bird life rim tropical islands in the Indian Ocean. But as Sam Purkis writes in the Conversation climate change threatens everything that is unique about the Chagos Islands.

10 Jul 20 - As many as 60 per cent of the world's fish species could struggle to breed and reproduce if climate change causes the Earth to warm by 5deg over the next 80 years, according to a new study.

22 Jun 20 - The ocean floor is less well known than the surface of Mars and charting it could help show how oceans impact the earth's climate.

16 Jun 20 - Far from the sunlight and even at the lowest temperatures, ocean warming is making marine life uncomfortable.
---
22 May 20 - It's a racing certainty that sea levels everywhere will go on climbing. Unless the world's nations act to contain global warming, by 2100 the tides around the world will be one metre higher. And by...
7 Apr 20 - The glory of the world's oceans could be restored within a generation, according to a major new scientific review.
7 Apr 20 - In a warming ocean, some species will swim, others sink. But all agree: the poles attract marine life without exception.
3 Mar 20 - Stocks of tropical fish that have provided vital protein for local people for generations may soon disappear as the oceans warm, leaving empty seas in their wake, scientists believe.
29 Jan 20 - New research warns that 'blue acceleration' – a global goldrush to claim the ocean floor – is already impacting on the environment.
9 Dec 19 - Oxygen in the oceans is being lost at an unprecedented rate, with "dead zones" proliferating and hundreds more areas showing oxygen dangerously depleted, experts have warned.
25 Nov 19 - Plastic manufacturers believe they are not to blame for the material choking the world's oceans. They point the finger at litterbugs.
8 Nov 19 - Sea levels rose 10 metres above present levels during Earth's last warm period 125,000 years ago, according to new research that offers a glimpse of what may happen under our current climate change...
7 Nov 19 - Lost and abandoned fishing gear which is deadly to marine life makes up the majority of large plastic pollution in the oceans, according to Greenpeace.
30 Sep 19 - Climate scientists say seabed carbon storage could be a new ally to help reduce greenhouse gas emissions by a volume greater than all the carbon dioxide pumped into the atmosphere from the planet's...
10 Sep 19 - The Pacific Ocean off the western coast of North America is five degrees hotter than usual after warming at an unusually rapid rate.
20 Aug 19 - A warming planet will alter ocean waves along more than 50 per cent of the world's coastlines, according to research published today.
---