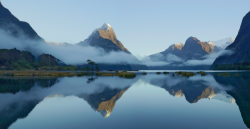 11 Oct 23 - It is clear that Aotearoa is warming, according to a new report on the state of our atmosphere and climate. But experts say we can still do something about it.

3 Aug 23 - A trial led by Auckland scientists to test "cool roofs" in countries vulnerable to climate heating has received a massive boost, with funding from a $37 million pool.

20 Jul 23 - Three prominent New Zealanders are part of the International Science Council's global commission calling for a new way of doing science to tackle "unacceptably slow" progress on the UN sustainable development goals (SDGs).

11 May 23 - With climate-enhanced droughts, heatwaves and fires ravaging three continents and the threat of a new surge in global warming, the world urgently needs to ramp-up solutions for slashing carbon pollution. But which solutions are most critical?

10 May 23 - Our planet is teetering on the edge of several tipping points that once passed, will topple into a cascade of ecological changes.

4 May 23 - Global warming could curtail life in the so-called twilight zone by as much as 40% by the end of the century, according to new research.

2 May 23 - Since mid-March, the world's oceans have been hotter than at anytime since at least 1982, raising concerns among some climate experts about accelerated warming.
---
2 May 23 - As the climate continues to warm, atmospheric drying — the reduction of the amount of water the air can hold — is becoming a major concern for crop producers around the world.
2 May 23 - Just 10 countries are meeting the basic needs of their citizens in a sustainable way, according to a new study that looks at the water use and carbon emissions of 178 nations.
1 May 23 - Think of them as speed cameras, but for methane. Just like roadside instruments used to identify drivers breaking traffic rules, new powerful satellites are starting to catch oil and gas operators...
27 Apr 23 - Temperatures in the world's oceans have broken fresh records, testing new highs for more than a month in an "unprecedented" run that has led to scientists stating the Earth has reached "uncharted...
24 Apr 23 - A study has revealed that the media's coverage of climate research is, to a large extent, carried out in a way that doesn't provoke action.
24 Apr 23 - For hundreds of years, the ocean has protected the Guna Yala culture on Cardi Sugdub, or Crab Island, located off the coast of Panama.
21 Apr 23 - Atop a 100-foot barge tied up at the Port of Los Angeles, engineers have built a kind of floating laboratory to answer a simple question: Is there a way to cleanse seawater of carbon dioxide and then...
21 Apr 23 - According to the climate plans submitted to the UN by 50 countries, 12 gigatons of CO2 per year will continue to be emitted by 2050 -- and need to be removed from the atmosphere.
18 Apr 23 - If people had more information about the carbon footprint generated by the food they eat, would they make different decisions when ordering in restaurants?
17 Apr 23 - Early and stringent action to rapidly and dramatically cut climate pollution is the best path for the global economy, according to a new working paper by American scientists.
14 Apr 23 - Tropical forests provide a variety of ecosystem services that are also of great global relevance, such as climate regulation and the provision of habitat for animals and plants.
6 Apr 23 - A traditional Southeast Asian rice farming technique of raising fish and other aquatic livestock in paddies has potential to meet global food demands, improve the health of both people and the...
---