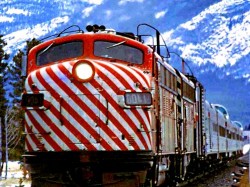 30 Aug 22 - A United States start-up is cooking up a plan to mount direct air capture (DAC) technology on trains to remove carbon dioxide from the atmosphere at a much lower cost than stationary systems.

5 May 22 - Ten years ago, 148 of South Korea's 151 MPs voted for the introduction of an emissions trading scheme.

22 Nov 21 - Each wooden box is as big as a grand piano. Employees in gray T-shirts open the strong hinges, remove safety foils and loosen the fixings. Now they can lift the heavy battery system out with a crane and carefully maneuver it onto the forklift.

27 Oct 21 - Concrete is responsible for more than four percent of all global CO2 emissions. In the race to find alternatives, some companies are using it to sequester CO2 instead.

9 Sep 21 - Digital twins of buildings and cities could become an essential tool in the battle against climate change, according to technology experts.

27 Jul 21 - Scientists worry that growing numbers of rocket flights and the rise of space tourism could harm Earth's atmosphere and contribute to climate change.

8 Oct 20 - As the world dices with the climate emergency, businesses and governments are starting to push funding towards technology that aims to trap planet-heating gases rather than let them saturate the atmosphere.
---
28 Aug 20 - A new app tracks your carbon footprint in real-time. It's funded by BP.
15 Jul 20 - The multinational drinks company Diageo says it has created the world's first paper-based spirits bottle that is 100% plastic-free.
8 Jul 20 - By PETER GRIFFIN | New Zealand's discarded jumble of unwanted electronic devices equates to around 97,000 tonnes of e-waste a year. How much of it is recycled?
25 Feb 20 - The social media conversation over the climate crisis is being reshaped by an army of automated Twitter bots, with a new analysis finding that a quarter of all tweets about climate on an average day...
1 Nov 19 - A new multiplatform video game aimed at raising awareness of the climate crisis features a group of refugees trying to survive as their world changes.
9 Sep 19 - A common belief is that we can save modern civilisation if we shift to new technologies. But "technology" is not a magic wand.
23 Aug 19 - In the wake of entire countries and professional bodies such as the Institute of Architects declaring a climate emergency, engineers are considering the same move.
28 Sep 17 - Carbon South director BRUCE SCOTT featured in yesterday's Carbon News calling for carbon credits to be issued for projects that cut New Zealand's greenhouse gas emissions. He's got other ideas, too,...
6 Sep 17 - Tesla has launched large-scale production of its glass solar roof tiles at its Buffalo plant.
22 Aug 17 - The media plays a big part in generating awareness over environmental issues. but what is often missing from the discussion is the environmental costs of producing media in the first place.
22 Feb 17 - Company bosses need to walk-the-walk when it comes to greening their business with technology, with new research finding that just buying green IT, doesn't make you green.
24 Jun 16 - By itself, concrete is a very durable construction material. The magnificent Pantheon in Rome, the world's largest unreinforced concrete dome, is in excellent condition after nearly 1900 years.
---