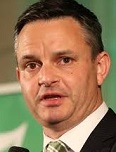 27 Oct 20 - National's climate spokesperson is picking Green Party co-leader James Shaw will stay on as climate minister.

22 Oct 20 - Businesses want the new Government to back $7.23 billion worth of projects they say will cut the country's greenhouse gas emissions by 5.5 per cent over the next decade.

19 Oct 20 - Who will be New Zealand's next climate minister? Carbon News canvasses the options and comes up with four names.

16 Oct 20 - A new Labour Government could bring in carbon tariffs at the border, says Trade Minister David Parker.

16 Oct 20 - Climate Minister James Shaw tried to put a price on greenhouse gas emissions from agriculture from next year, according to fellow Green Cabinet minister Eugenie Sage.

15 Oct 20 - Forestry's role under the Emissions Trading Scheme would be reviewed under a National Government and agricultural emissions would not face a carbon price until other countries do the same.

13 Oct 20 - Prime Minister Jacinda Ardern and three of her Cabinet heavyweights have been briefed on what experts and business leaders see as the real issues in dealing with climate change.
---
8 Oct 20 - A re-elected Labour Government would ban the installation of most new coal-fired industrial boilers and decarbonise the public transport fleet by 2035, Prime Minister Jacinda Ardern announced...
6 Oct 20 - Climate change remains the country's biggest issue for young voters, despite the covid-19 pandemic, a new independent political poll shows.
17 Jul 20 - Cabinet minister and New Zealand First MP Shane Jones is angry about the long shadow Rogernomics still casts over the people of the North.
2 Mar 20 - Climate change should be less of an election issue this year than it was last time round, thanks to cross-party agreement on the zero-carbon act, says National Party climate spokesperson Scott...
21 Feb 20 - By ADELIA HALLETT | A largely unheralded candidate selection in Auckland this week could prove pivotal in New Zealand's climate politics.
13 Feb 20 - Climate change will be a major factor for more than a quarter of voters in this year's general election, a new poll suggests.
29 Jan 20 - The Greens go into the September 19 election promising to "fix" the carbon price.