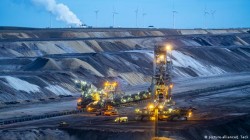 Friday - To a flurry of online applause and waving hands, citizens from across Germany agreed Wednesday night on more than 80 ways for the country to meet its commitments to slash emissions under the 2015 Paris climate agreement.

Wednesday - France is striving to confirm its position as a global leader in corporate climate disclosures with a new set of binding targets that require investors to declare how green their assets.

16 Jun 21 - The European Commission is setting up a fund to support vulnerable households whose fuel bills increase as a result of its plan to expand carbon pricing to transport and buildings' heating systems.

15 Jun 21 - Fancy maggot burgers for dinner? Eating animals and plants which revolt many of us could cut hunger caused by climate change.

14 Jun 21 - Exit polls on Sunday indicated that Swiss voters appear to have narrowly rejected a proposed "carbon dioxide law" that would have hiked fees and taxes on fuels that produce greenhouse gases.

11 Jun 21 - Europe is preparing legislation that would jolt the rules of international trade by taxing imported goods based on the greenhouse gases emitted to make them.

8 Jun 21 - A diverse group of 160 German citizens have until the end of June to present their recommendations for climate protection to the government. DW spoke to two participants.
---
3 Jun 21 - HeidelbergCement have announced its intention to upgrade its facility on the Swedish island of Gotland to become the world's first carbon-neutral cement plant.
1 Jun 21 - Prime Minister of Finland Sanna Marin outlines her country's ambitious plan to be climate neutral by 2035 and carbon negative - removing more carbon than it emits - soon after.
31 May 21 - Hundreds of health workers marched to the World Health Organisation on Saturday demanding that authorities in all countries recognise and act to counter the health risks of climate change.
27 May 21 - Environmental campaigners in the Netherlands and around the world are celebrating today after a court in The Hague ordered oil firm Royal Dutch Shell to cut its carbon emissions, in a...
26 May 21 - European Union leaders on Tuesday shelved an attempt to direct how the bloc will set new national targets for emissions cuts, weeks before Brussels is due to propose a huge package of tougher climate...
25 May 21 - Russia's Rusal ,the world's largest aluminium producer outside China, announced last week it plans to spin off its higher-carbon production assets into a new company, leaving its low-carbon...
20 May 21 - The cost of polluting in Europe is experiencing a meteoric rise unlike any period since its inception in 2005, driven higher by the region's ambitious climate policy and increased financial...
13 May 21 - Europe's record-high carbon prices are driving down coal use,
10 May 21 - A ruling last week by the German Constitutional Court in favour of ecological NGOs has major significance—and not just for Germany.
10 May 21 - Climate change is already impacting price stability and it will have an effect on monetary policy, European Central Bank President Christine Lagarde said Friday.
7 May 21 - How do you wean the Dutch off fossil fuels? Well, you could always start by banning advertisements that promote them.
4 May 21 - Energy efficient building renovation is not enough to lessen the climate impact of residential buildings, according to one sustainability expert who is calling for a limit on the living space...
---