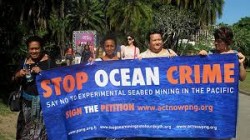 29 Jun 22 - Media Release - In the first governmental alliance of its kind, the Pacific nations of Palau, Fiji and Samoa have today announced their opposition to deep sea mining, calling for a moratorium on the emerging industry amidst growing fears it will destroy the seafloor and damage biodiversity.

28 Jun 22 - Media Release - Te Pāti Māori Co-leader Debbie Ngarewa-Packer MP was to travel to Lisbon, Portugal to help build an international coalition against deep sea mining at the United Nations Oceans Conference 2022.

27 Jun 22 - Media Release - A new $20 million fund and incubation initiative designed to address the high failure rate of New Zealand startups with a social or environmental purpose has launched
23 Jun 22 - Media Release - Avis New Zealand has added close to 100 electric vehicles (EVs) to its fleet with more to be on boarded in the next two years - making it New Zealand's largest electric car rental fleet.

22 Jun 22 - Media Release - The end-Permian mass extinction is the most severe mass extinction event ever recorded, during which ~80% of marine species went extinct.
17 Jun 22 - Media Release - A new biodiversity market has been launched with the first transaction of biodiversity units between Sanctuary Mountain Maungatautari (the seller) and Profile Group Limited (the buyer). The mainland ecological island is now able to raise funds for conservation management from the sale of biodiversity units through the newly minted Ekos Sustainable Development Units Programme.

10 Jun 22 - Media Release - The Investor Group on Climate Change today released a new discussion paper on The Circular Economy – the systemic approach that has risen to prominence as a key method to address climate change.
---
9 Jun 22 - Media Release - More than five million cubic metres of potentially harmful methane gas will be captured and turned into energy each year following the installation of an innovative biogas system at...
3 Jun 22 - Media Release - The upcoming Bonn Climate Change Conference (6-16 June) is set to kick off next week, designed to prepare for the UN Climate Change Conference (COP27) in November of this year.
31 May 22 - Media Release - Five decades after the world's first conference to make the environment a major issue, UN human rights experts call on States to redouble efforts to protect the imperilled planet for...
27 May 22 - Media Release -Finalists Announced for Mindful Money Ethical and Impact Investment Awards: Celebrating leaders in the transition towards ethical investment
24 May 22 - Media Release - The NZ Super Fund and Copenhagen Infrastructure Partners (CIP) have welcomed the Government's Budget 2022 commitment to develop a regulatory regime for offshore renewable energy.
23 May 22 - Media Release - Organic solar panels have the potential to rapidly improve our solar capacity. These can be printed like newspaper – and so can be flexible, lightweight, much cheaper to make, and...
19 May 22 - Media Release - Experts behind New Zealand's first government-funded space mission partnership, MethaneSAT, will come together to talk about the project in a free event for Techweek at the University...
18 May 22 - Media Release - Rapid bus lanes and cycling networks could be the future of transport in the Hamilton – Waikato area if a new business case is approved.
13 May 22 - Media Release - Brianna Fruean, a Samoan Pacific Climate Warrior and environmental champion has been announced as a recipient of the Global Citizen Prize: Citizen Award, citing her work leading...
12 May 22 - Media Release - New Zealanders are feeling confident about the nation's transition to a low carbon economy, according to Mercury's survey of electricity consumers.
10 May 22 - Media Release - Researchers at the University of Canterbury (UC) are developing a smart new way of making green hydrogen from woody biomass and capturing carbon in the process.
9 May 22 - Media Release - Thanks to a $10 million dollar investment, all remaining coal boilers in New Zealand schools will be replaced with renewable woody biomass or electric heating sources by 2025 reducing...
---