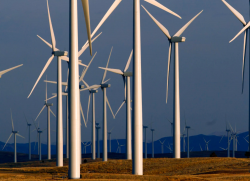 Friday - Cutting greenhouse gas emissions quickly would save tens of millions of lives worldwide, a new study finds
Friday - WWF International president Pavan Sukhde. a former managing director of Deutsche Bank, has expressed support for carbon tariffs in an interview with Yahoo Finance.

Friday - Two of the main themes discussed during the G-7 meeting in June were collective security and climate change action. But an opportunity was missed by separating the issues, argues Limor Simhony.

Friday - If cellular agriculture is going to improve on the industrial system it is displacing, it needs to grow without passing the cost on to workers, consumers and the environment, write Jan Dutkiewicz and Gabriel N Rosenberg.

Friday - Media Release - The Investor Group on Climate Change (IGCC) is excited to announce the Climate Awards are now open for entries.

Thursday - Twenty months after more than 11,000 scientists declared a global climate emergency, establishing a set of benchmarks for the planet's health, an international coalition says its update on those vital signs "largely reflect the consequences of an unrelenting 'business as usual' approach to climate change policy".

Thursday - India was the only one of 51 invited countries that didn't attend a two-day ministerial meeting in the UK capital, hosted by the incoming president of the COP26 United Nations talks.
---
Thursday - Electricity demand in the European Union has returned to pre-pandemic levels without a corresponding rise in emissions.
Thursday - Rolling Stone's Dililah Friedler argues that the crises facing the Gulf Coast communities of Louisiana is proof of the need for a Climate Change Corps, like the one being promoted in the US Congress.
Thursday - Media Release - It's Earth Overshoot Day again. Two years ago it was 26th July, last year, mostly due to Covid, Earth Overshoot Day was 22nd August, so globally the situation has slightly improved.
Wednesday - Analysts have raised their European carbon market average price forecasts after the European Commission unveiled a package of policies to implement its climate targets, including reforms to limit the...
Wednesday - China didn't finance any coal projects via its Belt and Road Initiative in the first half, the first time that's happened since the plan was launched in 2013, the International Institute of Green...
Wednesday - Ireland's ambitious Climate Act, which has set a legally binding target to reduce greenhouse gas emissions by 51% by 2030, has now been signed into law.
Wednesday - Climate change is threatening to end Afghanistan's 'historical cradle' of world pomegranate production.
Wednesday - Economist Branko Milanovic argues that Norway illustrates the hypocrisy of rich countries that demand urgent action on climate change but are unwilling to accept any drop in living standards to...
Tuesday - China, Russia and India are among countries resisting a timeline to phase out coal power generation, leaving it to leaders to resolve the impasse.
Tuesday - More than 200 of the world's leading climate scientists will begin meeting this week to finalise a landmark report summarising how Earth's climate has already changed, and what humans can expect for...
Tuesday - A new study by a director at one of the largest accounting firms in the world has found that a famous, decades-old warning from MIT about the risk of industrial civilisation collapsing appears to be...
Tuesday - Scientists worry that growing numbers of rocket flights and the rise of space tourism could harm Earth's atmosphere and contribute to climate change.
---