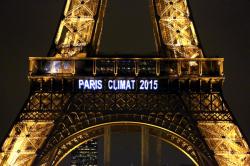 15 Dec 15 - By editor ADELIA HALLETT.- Two months ago, Northern Employers and Manufacturers' Association chief Kim Campbell let fly on climate change.

15 Dec 15 - Tentative steps have been made toward the development of an international carbon market.
15 Dec 15 - Under the Paris Agreement there should be no net addition of greenhouse gas emissions to the atmosphere sometime in the second half of this century.
15 Dec 15 - In their recent book Climate Change, Capitalism, and Corporations: Processes of Creative Self-Destruction, Christopher Wright and Daniel Nyberg argue that "the reputation risk that flows from an association with greenhouse gas pollution has become increasingly relevant for corporations amid growing public awareness of climate change".
7 Dec 15 - People on low-lying islands threatened by climate-related disasters are barred from seeking sanctuary because international laws say they are classed as economic migrants.

7 Dec 15 - The Paris climate summit came too late for Ioane Teitiota from the Pacific island nation of Kiribati, who made history when his case for asylum in New Zealand was rejected in September.

7 Dec 15 - Former NASA climate scientist James Hansen has called for a global "carbon fee" in which fossil fuels are taxed when they are produced or imported, rather than when they are consumed.
---
23 Nov 15 - Russia has a reputation as one of the more difficult states involved in international climate negotiations – and don't expect things to change at the latest UN conference in Paris.
23 Nov 15 - New Zealand is proposing in Paris a climate agreement that is not legally binding. PETER NEWELL, Professor of International Relations at the University of Sussex, explains why legally binding...
23 Nov 15 - Several regions have been meeting in the run-up to the Paris climate talks to deliberate on pressing climate issues. Africa is no exception.