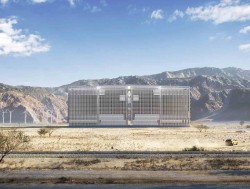 Thursday - Gravity storage start-up Energy Vault says it has begun site planning for what it now describes as a "multi-gigawatt hour" project for long and short term storage to support the green energy plans for Australian zinc refiner Sun Metals.

Thursday - As large parts of Europe and North America swelter and then ignite, a future of endless climate destruction seems inevitable.

Tuesday - Hydrogen has emerged as the great white (or green) hope of the clean energy transition due to its potential use in decarbonising hard-to-abate industries like shipping, steel production, and even transport.

Monday - Australian Institute of Marine Science says results in north and central regions are a sign the reef could still recover, but loss elsewhere highlights risks

27 Jul 22 - Australia's Chief Scientist has challenged the science and business community to figure out how to reach Australia's new climate target.

26 Jul 22 - The surprise bid for renewables and storage developer Genex Power announced on Monday morning by billionaire Scott Farquhar and his wife Kim Jackson tells two interesting stories about Australia's green energy transition.

22 Jul 22 - Australia, you will read almost anywhere, aims to be a global renewable energy superpower, even a renewable hydrogen superpower – in much the same way it does in fossil fuels, where it is one of the world's three biggest exporters.
---
21 Jul 22 - Octopus Investment Australia has officially launched its new $10 billion renewables "platform", that will seek to finance big solar, wind and battery storage projects and has already bought the...
21 Jul 22 - Australia's environment is in a shocking state and faces further decline from amplifying threats, according to an anticipated report.
20 Jul 22 - The "Canberra bubble" is something of a derisive term in Australia, referring to the niche interests of politicians, lobbyists and media insiders in the country's capital — the equivalent of being...
18 Jul 22 - Chevron faces a renewed multimillion-dollar buy-up of carbon credits to cover another shortfall by the world's biggest carbon capture and storage scheme at the Gorgon LNG project off northern WA.
12 Jul 22 - Australia's main scientific body and the country's energy market operator have again underlined the fact that "integrated" wind and solar – including the cost of storage and transmission – is still...
6 Jul 22 - Another emerging player in Australia's energy market has called on energy regulators to ditch plans for a capacity mechanism, arguing that installing more energy storage capacity would be a better...
5 Jul 22 - The Australian government has announced the appointment of an independent panel (Panel) to review the integrity of Australian Carbon Credit Units (ACCUs).
5 Jul 22 - On a fine day, locals arrive on boats that motor up the Hawkesbury River in New South Wales to dine on the back deck of the Paradise Café.
4 Jul 22 - Australia's new government is putting climate change at the top of its legislative agenda when Parliament sits next month for the first time since the May 21 election, with bills to enshrine a cut in...
1 Jul 22 - The solar and storage resources of Australian households and businesses will have the capacity to meet nearly one-fifth of national electricity market demand by 2050, and rooftop solar alone could...
30 Jun 22 - The Labor-led Australian federal government, which was elected last month, said it was looking at joining the global methane pledge that seeks a collective 30% cut in methane emissions by 2030...
27 Jun 22 - Sun Cable's Australia-Asia PowerLink, the massive solar and battery project backed by Australia's two richest men, Andrew Forrest and Mike Cannon-Brookes, has cleared another important hurdle with a...
---