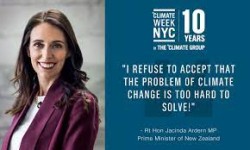 4 Oct 21 - Prime minister Jacinda Ardern is being urged to go hard and go early against climate change in an open letter being promoted by activist group Extinction Rebellion

13 Sep 21 - Have you ever wondered whether our spies prefer Teslas to gas guzzlers? Well, keep on wondering - apparently it's a state secret.
2 Sep 21 - Almost a third of the world's tree species are at risk of extinction, while hundreds are on the brink of being wiped out, according to a new report.

13 Aug 21 - A deep winter freeze, hailstorms and wildfires led to natural catastrophe losses of $40 billion in the firsthalf of 2021, Swiss Re Institute's preliminary estimates showed on Thursday.

4 Aug 21 - The Environmental Defence Society Annual Conference, kicks off today at the Christchurch Town Hall.

29 Jul 21 - Media Release - Toitû Tahua, the Centre for Sustainable Finance, was launched today to implement the Sustainable Finance Forum's 2030 roadmap for a sustainable financial system.

29 Jul 21 - The Conversation: "Explore your inner beast." That was the slogan used last year to sell the Ford Ranger. At 2.4 tonnes, that's a lot of "light" truck, but the stakes are rising. This year, the 3.5 tonne Ram 1500 "eats utes for breakfast".
---
12 Jul 21 - Iwi Maori will be consulted before a decision is made on whether any new onshore, gas exploration permits are issued, the Minister of Energy and Resources, Megan Woods, told Parliament last week.
7 Jul 21 - A joint study by engineering consultancy Beca, Firstgas and Fonterra claims renewable gas could replace close to 20% of New Zealand's total gas usage by 2050.
1 Jul 21 - Environment Select Committee to hear reports from the Parliamentary Commissioner for the Environment on tourism and the prioritisation of environmental research in New Zealand, this morning.
30 Jun 21 - Reserve Bank Governor Adrian Orr urged attendees at yesterday's Mindful Money Awards to incorporate climate risk into how they invest and allocate capital.
28 Jun 21 - Mindful Money Awards, Generator @ GridAKL, tomorrow.
23 Jun 21 - The second NZ ETS auction cleared at a price of $41.70 today.
17 Jun 21 - ASB has taken advantage of the Reserve Bank's Funding for Lending scheme to offer discounted lending to farmers adopting sustainable practices.
11 Jun 21 - Climate Change Commission open Zoom: ClimCom chair Dr Rod Carr and deputy chair Lisa Tumahai explain the commission's recommendations, today, 12 noon to 1pm.
8 Jun 21 - Next time you take a swig of Steinlager you can rest easy knowing that Lion has paid one cent to offset the carbon emitted during its brewing.
3 Jun 21 - The Reserve Bank will use part of its $85 billion balance sheet to help deal with the challenges of climate change, the bank's head of financial markets Vanessa Rayner said in a speech released...
31 May 21 - With hundreds of cyclists and pedestrians "liberating" two lanes of the Auckland harbour bridge yesterday, and Wellington City Council committing to doubling its budget for bike paths last week,...
21 May 21 - Former Treasury chief economist Girol Karacaoglu told a post budget breakfast this morning that the Government's "wrongheaded" obsession with balance was preventing it from dealing adequately with...
---