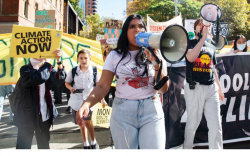 Friday - Despite Labor and the Coalition being conspicuously quiet about climate change during the campaign, it was in many ways the defining issue of this historic change of government.

Friday - Climate change is heating up elections — and the right is getting torched

Friday - Environmental groups warn nations risk undermining their green goals by scrambling to secure new sources of natural gas to make up for shortfalls in supplies from Russia.

Friday - Finland could soon become the first country in the world to legally commit to carbon negativity.

Friday - Yesterday Verra, the Washington-based non-profit that sets voluntary carbon credit standards, said it is immediately stopping the practice of creating blockchain tokens or instruments based on retired credits

Friday - The world's second-largest asset manager Vanguard has refused to stop new investments in fossil fuel projects and end its support for coal, oil and gas production.

Thursday - Lawmakers in the European Parliament's environment committee voted on a major overhaul of the EU's carbon market last week, but it's a long and possibly bumpy road to EU legislators shaking hands on the final deal.
---
Thursday - For centuries, fossil fuels have been associated with prosperity, progress, and growth. But more and more economists say that the continued use of coal, oil, and gas is now driving the world in the...
Thursday - The U.S. government promised Native tribes in the Pacific Northwest that they could keep fishing as they'd always done. But instead of preserving wild salmon, it propped up a failing system of...
Thursday - Giving people individualized information about how an electric car's range matches up with their driving habits makes people more willing to buy an electric vehicle, according to a new study.
Thursday - A lawsuit by the state of Massachusetts accusing ExxonMobil of misleading the public about climate change can go forward, the state's highest court has ruled. Massachusetts' Supreme Judicial Court on...
Thursday - Carbon offsets have been criticised for failing to provide carbon savings and ignoring the needs of local communities. But in Tanzania, hunter-gatherer tribes are earning a good return for their...
Wednesday - None of the G20 countries have made climate commitments consistent with limiting global temperature rise to 1.5 degrees Celsius, as the Paris Agreement stipulates, data from a new report showed
Wednesday - Pacific and Caribbean nations have joined Vanuatu in calling for an advisory opinion from the International Court of Justice (ICJ) on countries' legal obligations to protect people from climate harm.
Wednesday - The savage heatwave that has scorched India and Pakistan in recent months was made more likely by climate change and is a harbinger of the region's future, scientists have said in a new study.
Wednesday - California's environmental achievements are something to behold. The state ranks first in the U.S. for growth in solar power generation and battery storage. It's the national leader in cumulative...
Wednesday - Despite a federal election result that promises a new era of political support for the Australian renewable energy industry, a major report warns of a tough road ahead for a market still feeling the...
Wednesday - The UK government's plan for achieving net zero greenhouse gas emissions by 2050 is at a serious risk of sinking before it's been fully launched. With the Treasury having rejected a request by MPs to...
Tuesday - Media Release - The NZ Super Fund and Copenhagen Infrastructure Partners (CIP) have welcomed the Government's Budget 2022 commitment to develop a regulatory regime for offshore renewable energy.
---