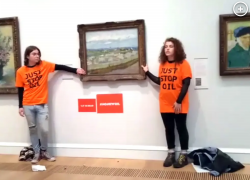 Monday - British climate activists have glued their hands to the frames of three valuable works of art — including one from Vincent van Gogh — in three separate incidents this week to protest the United Kingdom's environmental policies.

Thursday - Dramatic yet feasible changes to industry, technology, and society could enable people in the UK to cut their energy use in half by 2050, according to a new study. And rather than feeling deprived by the effort to save energy, people would likely be better off in many ways, researchers say.

29 Jun 22 - A carbon capture plant that has opened in Northwich is the largest such project in the UK. The £20 million facility will convert 40,000 tonnes of carbon dioxide into food and pharmaceutical grade sodium bicarbonate each year.

17 Jun 22 - Climate change and the public's response to it is affecting almost every aspect of agriculture, but what does it mean for cattle farming? In this guide, Brushtec discusses a few ways global warming may directly impact the dairy industry, as well as a few tips for how to handle it.

15 Jun 22 - E-bikes could take the place of enough car trips to cut transportation emissions in England by as much as 24.4 million metric tons of carbon dioxide per year, according to a new study. What's more, the greatest per capita benefits of e-bikes—with the potential to shave more than 750 kilograms of carbon dioxide off a person's annual carbon footprint—are seen in rural and exburban areas.

9 Jun 22 - Alok Sharma, the UK cabinet minister who led last year's Cop26 climate summit, is in the running to be the UN's global climate chief, at a crucial time for international action on greenhouse gas emissions.

31 May 22 - Climate breakdown impacts could cause damage to the UK equivalent to cutting the size of the economy by at least 7.4 percent by the end of this century, unless there are stronger reductions in global greenhouse gas emissions.
---
25 May 22 - The UK government's plan for achieving net zero greenhouse gas emissions by 2050 is at a serious risk of sinking before it's been fully launched. With the Treasury having rejected a request by MPs to...
20 May 22 - It was a stunning, grisly act. A man, a climate activist and Buddhist, had set himself on fire on the steps of the US supreme court. He sat upright and didn't immediately scream despite the agony....
19 May 22 - The simple act of sprinkling rock dust—an abundant byproduct of mining—on farmland could capture 45% percent of the carbon dioxide required to help the UK meet its 2050 net-zero targets.
18 May 22 - The UK has moved a step closer to imposing a carbon tax on all imports to stop companies from outsourcing their CO2 emissions to foreign countries.
16 May 22 - The United Kingdom's bid to decarbonize its aviation industry—a plan that depends largely on self-regulation—is being described as "implausible and credulous," after a new report showed how little...
11 May 22 - When it was introduced in 2003, London's congestion charge made history: The UK capital was the first major city after Singapore to introduce road pricing for vehicles entering the urban core.
9 May 22 - Britain will have excess electricity supplies for more than half of the year by 2030 as a huge expansion of wind and solar power transforms the energy system, a new analysis suggests.
28 Apr 22 - A face mask for cows that neutralises the climate-heating gas methane in their belches has won a design award from Prince Charles and designer Sir Jony Ive.
26 Apr 22 - Northern Ireland will need to lose more than 1 million sheep and cattle to meet its new legally binding climate emissions targets, according to an industry-commissioned analysis seen by the Guardian.
8 Apr 22 - UK's livestock production can only get half way to its target for emissions reduction with the technology currently available to it.
22 Mar 22 - The decision by David Cameron's government to ditch what he denounced as "green crap" policies will cost every household as much as £150 a year by the autumn, new analysis has shown.
14 Mar 22 - Ministers should consider subsidising e-bikes as they do electric cars, campaigners have urged, after a study found that mass use of such bikes could create more than £2bn in health benefits and cut...
---