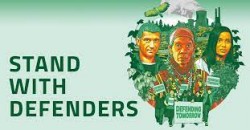 Tuesday - Media Release - A 46-strong group of countries across the wider European region has agreed to establish a new legally binding mechanism that would protect environmental defenders, the UN Economic Commission for Europe (UNECE) says.

Friday - Media Release - A new report released today by Greenpeace Indonesia, " Deceased Estate: Illegal palm oil wiping out Indonesia's national forest", reveals that illegal palm oil plantations are destroying protected Indonesian rainforests and other habitats, and New Zealand's industrial dairy sector is a major beneficiary.
20 Oct 21 - Media Release - Dr Franck Natali, Associate Professor at Te Herenga Waka—Victoria University of Wellington and Wellington UniVentures' Innovator-in-Residence, has been accepted on to the inaugural Breakthrough Energy Fellows Program to develop his work into revolutionising the way ammonia is produced.

19 Oct 21 - Media Release - The Government's decision to commit $1.3 billion over four years to support poorer countries to deal with climate change is the wrong one, given New Zealand is still struggling with lockdowns which have no end in sight, National's Climate Change Spokesperson Stuart Smith says.

19 Oct 21 - Media Release - Today's announcement is a fantastic outcome for communities on the frontlines of climate change, Oxfam Aotearoa Executive Director Rachael Le Mesurier said in response to the $1.3 billion the Government has promised in climate finance over the next four years.

15 Oct 21 - Media Release - From electric cars and buses to zero-carbon producing energy sources, new and emerging technologies along with innovative policy changes, are critical for combating climate change. But to be effective, they must ensure that transport strategies benefit everyone, including the poorest, a multi-agency UN report says.

14 Oct 21 - A consortium of specialist firms has been awarded a major contract to advance the New Zealand Battery Project's feasibility investigation into a pumped hydro storage scheme at Lake Onslow, the Minister of Energy and Resources Megan Woods has announced.
---
14 Oct 21 - The country's largest 'pine to natives' forest conversion project has been given a $15,000 cash injection by a leading producer of radiata pine products.
13 Oct 21 - A new United Nations report has underscored an urgent need for economies in the Asia-Pacific region to reduce greenhouse gas (GHG) emissions, including to maintain their trade competitiveness as...
12 Oct 21 - Media Release - In a historic ruling on the harmful effects of climate change on children's rights, the Child Rights Committee has found that a State party can be held responsible for the negative...
12 Oct 21 - Media Release - Ambitious national climate commitments are crucial for States to sustain a healthy, green recovery from the COVID-19 pandemic, according to a new UN health agency report launched on...
8 Oct 21 - Media Release - After an unprecedented pan-Commonwealth search for innovative satellite-driven solutions to tackle the challenges of the climate emergency and ocean sustainability, the Satellite...
8 Oct 21 - Media Release - A game-changing $1.2 million rubbish facility for building and business waste is coming to New Plymouth District. The New Plymouth District Council (NPDC) will open a waste sorting...
6 Oct 21 - Media Release - Plans for the new Peacocke community will help create the first climate-ready neighbourhood in Hamilton.
6 Oct 21 - Media Release - Hawke's Bay Regional Council partnering with global environmental organisation The Nature Conservancy.
5 Oct 21 - Media Release - Caritas has shifted the dial to 'severe' for four of its five environmental indicators, while climate finance for the poor has remained stubbornly at 'woefully inadequate' for seven...
30 Sep 21 - Media Release - The Government is continuing to back businesses in their switch from fossil fuels to cleaner power to fuel their industry, with the announcement of 23 new projects that will receive...
30 Sep 21 - Media Release - More than 2,000 young leaders and youth-led organisations from across the Commonwealth are urging governments to respect the needs and contributions of the world's most vulnerable...
29 Sep 21 - Media Release - The NSW Government has announced it will halve emissions from 2005 levels by 2030.
---