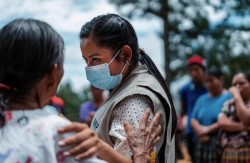 10 Aug 22 - On International Day of the World's Indigenous Peoples, World Food Programme agronomist Deborah Suc tells Simona Beltrami she's lost her shyness for sticking up for others – and the environment.

3 Aug 22 - The Atacama salt flat in northern Chile, which stretches 1,200 square miles, is the largest source of lithium in the world. We are standing on a bluff, looking over la gran fosa, the great pit that sits at the southern end of the flat, which is shielded from public view.

25 Jul 22 - Floods, heat waves and the longest drought in 1,000 years: Latin America is grappling with devastating climate change impacts that will only get worse, a World Meteorological Organization report warned Friday.

12 Jul 22 - Deforestation in Brazil's Amazon rainforest reached a record high for the first six months of the year, as an area five times the size of New York City was destroyed, preliminary government data showes.

23 Jun 22 - Deep in Ecuador's Amazon rainforest, indigenous leader Marcelo Lucitante deftly climbs a tree and attaches a camera trap, camouflaged among thick jungle foliage, to record footage of trespassing illegal gold miners.

21 Jun 22 - Environmental activist Francia Marquez will become Colombia's first Black vice president in a government that was elected on a platform of radical change.

14 Jun 22 - The Penuelas reservoir in central Chile was until twenty years ago the main source of water for the city of Valparaiso, holding enough water for 38,000 Olympic-size swimming pools. Water for only two pools now remains.
---
3 Jun 22 - Munich Re has announced the launch of TreeTrust, a corporate venture that brokers and structures high-quality afforestation projects for carbon removal.
30 May 22 - German judges and experts have arrived at the edge of a melting glacier high up in the Peruvian Andes to examine a complaint made by a local farmer who accuses energy giant RWE of threatening his...
21 Apr 22 - More than 170,000 students in Brazil are set to receive healthy, sustainable school meals, packed with plant-based foods.
20 Apr 22 - Indigenous lands in the Brazilian Amazon are under constant pressure, and deforestation of these areas has accelerated in recent years.
19 Apr 22 - Bolivian startup Quantum Motors makes tiny EVs aimed at the Latin American masses. Will they buy it?
5 Apr 22 - Chile's constitutional convention, underway in Santiago since July 4, 2021, is the first time a country has re-written its foundational document in the wake of the Paris Agreement and comes as the...
23 Mar 22 - Brazil's government has unveiled a series of incentives to spur the production and sustainable use of biomethane, a fuel that can be obtained from recycling urban and rural waste, and that can...
8 Mar 22 - The Amazon rainforest is nearing a tipping point that will see it transform into savannah, according to researchers who have found that the biodiversity hotspot has lost resilience in the past two...
7 Mar 22 - Chile said Saturday it is creating a vast national park to protect hundreds of glaciers that are melting due to climate change.
28 Feb 22 - PANAMA is the latest country to recognize the legal rights of nature, giving environmentalists a new tool to fight ecological harm.
15 Feb 22 - The number of trees cut down in the Brazilian Amazon in January far exceeded deforestation for the same month last year, according to government satellite data.
8 Feb 22 - Hidden behind the Andes in a quiet corner of South America, a formidable generation of former student leaders are putting together one of the world's most exciting progressive movements.
---