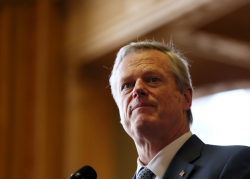 Tuesday - Massachusetts' Republican governor, Charlie Baker, signed a sweeping climate and energy bill into law last week, approving an array of policies intended to advance the state's goal of reaching net-zero greenhouse gas emissions by 2050.

Monday - The US's first comprehensive climate law, expected to be sealed with a vote in the House of Representatives on Friday, will not look anything like the program imagined by either climate economists or those in Washington and the environmental movement who had faith in bipartisan action

Friday - The Senate just took its biggest climate action ever with passage of the Inflation Reduction Act, but there's another major climate win lurking on its to-do list.

10 Aug 22 - More clean energy, less dirty energy, new punishments for methane leaks and billions of dollars for communities most in need of climate-related help — those are the provisions that have environmentalists celebrating what they see as a monumental step for U.S. climate action.

9 Aug 22 - Scientists welcomed the passing of US President Joe Biden's "historic" climate bill while calling for other major emitters – namely the European Union – to follow suit and implement ambitious plans to slash emissions.

5 Aug 22 - The Western US is an empire built on snow. And that snow is vanishing.

4 Aug 22 - The climate deal reached last week by Senate Democrats could reduce the amount of greenhouse gases that American farmers produce by expanding programs that help accumulate carbon in soil, fund climate-focused research and lower the abundant methane emissions that come from cows.
---
3 Aug 22 - The Biden administration is providing states with more detail about how they can use money from the federal infrastructure law to protect people and structures from the perils of climate change, a...
3 Aug 22 - Since Seattle-based Amazon pledged to cut its carbon output in 2018, the company has strayed further from its climate pledge. Amazon's companywide emissions increased by 18% in 2021 alone, according...
2 Aug 22 - Aiming to reduce mercury hazards and boost energy efficiency, Vermont will prohibit the sale of the long, tube-shaped fluorescent lamps that light up supermarkets, office buildings and classrooms as...
1 Aug 22 - Biden's climate bill is better than nothing — but just barely. "It's a renewable energy revolution on top of a fossil fuel build-out," says one climate advocate: in other words, a historic clean...
29 Jul 22 - Senate Majority Leader Chuck Schumer, D-N.Y., and Sen. Joe Manchin, D-W.V., on Wednesday unveiled a long-anticipated reconciliation package that would invest hundreds of billions of dollars to combat...
27 Jul 22 - The Biden administration says the government will plant more than one billion trees across millions of acres of burned and dead woodlands in the U.S. West, as officials struggle to counter the...
20 Jul 22 - The White House is scrambling to reassure Democratic voters that President Joe Biden can still take action on climate change after another blow to proposed climate legislation from Senator Joe...
18 Jul 22 - White House economic adviser Jared Bernstein told CNN on Sunday that President Joe Biden will pursue his climate agenda "with or without Congress," following the news Thursday that West Virginia...
13 Jul 22 - A global transition to cleaner energy sources could be the world's best opportunity to minimise the chance of global conflicts, the US energy secretary has told a major energy forum in Sydney.
13 Jul 22 - Even as farms decline across the US, a longer growing season is bringing food security to a state that has long relied on sustenance from afar.
11 Jul 22 - Climate groups raised the alarm and put President Joe Biden on notice after the Bureau of Land Management opened the public comment period Friday for a proposed drilling project in the Alaskan Arctic...
7 Jul 22 - Many big companies have pledged to offset some of their carbon pollution by investing in tree planting project
---