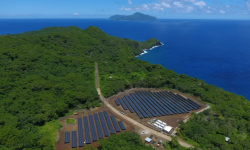 16 Jun 22 - New Zealand has agreed to help Samoa finance its climate goals, including its Nationally Determined Contribution, national climate adaptation plan, and a goal of 100% renewable energy generation by 2025.

13 Jun 22 - Fiji's defence minister said on Sunday that climate change posed the biggest security threat in the Asia-Pacific region, a shift in tone at a defence summit that has been dominated by the war in Ukraine and disputes between China and the United States.

30 May 22 - Vanuatu's parliament has declared a climate emergency with the low-lying island nation's prime minister flagging a $1.2bn cost to cushion global warming's impacts on his tiny Pacific country.

25 May 22 - Pacific and Caribbean nations have joined Vanuatu in calling for an advisory opinion from the International Court of Justice (ICJ) on countries' legal obligations to protect people from climate harm.

18 May 22 - Kiribati-born Tiibea Baure moved to Australia in 2008 as a nursing student with a plan for her extended family's future.

9 May 22 - Hawaii lawmakers put the state on the path to making history after the Legislature passed a resolution last week endorsing a document called the "Fossil Fuel Non-Proliferation Treaty."

6 May 22 - The government of Vanuatu has assembled a coalition of more than 1500 civil society organisation from 130 countries to support its plans to take a climate change claim to the International Court of Justice in the Hague.
---
2 May 22 - Former Pacific island leaders have called on Australia to take "credible and urgent actions on climate change" and criticised a lack of consultation with the region after Solomon Islands' shock...
13 Apr 22 - At least one Pacific nation wants funding to help with climate change resiliency as the U.S. renegotiates three critical security treaties ahead of a looming deadline next year.
6 Apr 22 - Papua New Guinea's environment minister has imposed a moratorium on new voluntary carbon credit schemes to give the government time to create a regulatory framework for future and existing deals.
11 Mar 22 - A tribe in the Solomon Islands has become the first in the country to receive a carbon credit.
9 Mar 22 - A plan to clear forests in Indonesia's easternmost region of Papua for food crops will release as much greenhouse gases into the atmosphere as Australia emits in an entire year, according to a new...
2 Mar 22 - An analysis has revealed that the cooling effect of Tonga's volcano eruptions would be much smaller than initially thought and not strong enough to overwhelm longer-term global warming tendency.
21 Feb 22 - Leaders of small island nations met on Tuesday to discuss suing countries in the Global North for the damage caused by emissions.
14 Feb 22 - Pacific Islands Forum Secretary General Henry Puna has called on all States to play their part when it comes to maintaining the health of the ocean. SG Puna made the plea as he attended the One Ocean...
14 Feb 22 - The Oceania-Hawai'i Pavilion at Marseille's Parc Chanot exhibition space pulsed with an all-age crowd, music and laughter, like an archipelago of ease.
28 Jan 22 - Pacific Island nations facing the reality of climate change-induced land loss are using their diplomatic strength to ensure their sovereignty and economic future are protected, Jess Marinaccio writes...
21 Dec 21 - Earlier this month, parts of Papua New Guinea experienced a surge in king tides that flooded communities and displaced approximately 53,000 people. For PNG – facing more than double the global...
21 Dec 21 - With big business backing Labor's climate policy and net zero gaining bipartisan support, the climate battle is transitioning into a new phase.
---