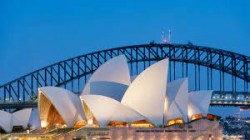 Tuesday - The Australian government has announced the appointment of an independent panel (Panel) to review the integrity of Australian Carbon Credit Units (ACCUs).

Tuesday - On a fine day, locals arrive on boats that motor up the Hawkesbury River in New South Wales to dine on the back deck of the Paradise Café.

Monday - Australia's new government is putting climate change at the top of its legislative agenda when Parliament sits next month for the first time since the May 21 election, with bills to enshrine a cut in greenhouse gas emissions and make electric cars cheaper

Friday - The solar and storage resources of Australian households and businesses will have the capacity to meet nearly one-fifth of national electricity market demand by 2050, and rooftop solar alone could provide twice as much generation as coal in a decade.

Thursday - The Labor-led Australian federal government, which was elected last month, said it was looking at joining the global methane pledge that seeks a collective 30% cut in methane emissions by 2030 relative to 2020 levels. The previous conservative coalition government rejected the pledge when it was unveiled last year.

27 Jun 22 - Sun Cable's Australia-Asia PowerLink, the massive solar and battery project backed by Australia's two richest men, Andrew Forrest and Mike Cannon-Brookes, has cleared another important hurdle with a ringing endorsement of its economic merits from Infrastructure Australia

21 Jun 22 - Australia's coal mines cause more planetary warming in a typical year than emissions from all of the country's cars.
---
20 Jun 22 - The regional powerhouses of Australia's industrial economy could slash their greenhouse gas emissions by more than 80% and become centres for multibillion-dollar investments in renewable energy,...
17 Jun 22 - Prime minister Anthony Albanese has formally committed Australia to a stronger 2030 emissions reduction target, to cut emissions by 43 per cent by the end of the decade.
16 Jun 22 - Oil giant BP has taken a 40.5% stake in the $30 billion Australian Renewable Energy Hub in the Pilbara, one of the biggest renewable and green hydrogen projects in the world.
15 Jun 22 - Based in Tasmania's Derwent Valley, Fiona Weaver's adventure tourism business trades on the reputation of Tasmania's pristine wilderness.
9 Jun 22 - First Nations traditional owners have launched a Federal Court challenge to Santos' plans to drill for gas off the coast of the Northern Territory, arguing approvals granted to the Barossa project...
9 Jun 22 - Traditional Owners in Australia are the creators of millennia worth of traditional ecological knowledge—an understanding of how to live amid changing environmental conditions. Seasonal calendars are...
8 Jun 22 - Scientists are lobbying for farmers to be financially rewarded in the form of carbon credits for cleaning up their dams.
7 Jun 22 - A battery the size of four fridges installed in Melbourne's inner north is expected to provide solar power to about 200 homes in a push to get more renewable energy into the network.
3 Jun 22 - Spanish energy giant Acciona Energía has hailed a "golden age of renewables" at the official launch event for the start of construction at Australia's biggest wind farm to date – the 1.026GW...
2 Jun 22 - Anthony Albanese will create a new mega-department of climate change, energy, environment and water to drive the new Labor government's policy agenda.
31 May 22 - From dubious claims about bamboo-based products to climate funds that are not quite what they seem, regulators have been increasing their scrutiny of corporate claims to be green.
27 May 22 - Despite Labor and the Coalition being conspicuously quiet about climate change during the campaign, it was in many ways the defining issue of this historic change of government.
---