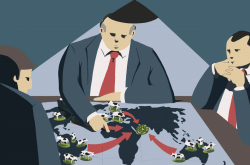 Today 11:00am - Polluting livestock companies and lobby groups will target pavilions in a coordinated campaign at the UN climate summit, documents show.
Today 11:00am - The world's most important climate meeting, which starts today, is being hosted in Dubai by the United Arab Emirates (UAE) - one of the world's top ten oil producers.

Today 11:00am - Climate change is the biggest threat to human health in Africa and the rest of the world, the head of the continent's public health agency said.

Today 11:00am - Financial headwinds could be a passing storm or a long-term headache for the carbon-free energy source.

Today 11:00am - The North American wolverine will receive long-delayed threatened species protections under a Biden administration proposal released in response to scientists warning that climate change will likely push them toward extinction.

Today 11:00am - At a climate summit, Bill Gates sparked controversy by dismissing tree planting as a climate crisis solution, calling it "complete nonsense."
Wednesday - Climate scientists say fossil fuel use needs to fall rapidly – but oil-rich kingdom is working to drive up demand.
---
Wednesday - US President Biden is not expected to attend the opening of COP 28 this week but will send top US officials to the UN climate summit in Dubai, the White House confirmed.
Wednesday - As a year of record-breaking temperatures and climate change-fuelled disasters draws to a close, nations are once again preparing to gather for another round of UN climate talks.
Wednesday - The gigantic iceberg A23a, which broke off from Antarctica in 1986, is finally moving away from the icy continent after being stuck on the seafloor for decades.
Wednesday - Whistleblowers raise alarm over American consultancy's growing influence in pushing carbon markets and developing energy transition plans.
Wednesday - A new study outlines how researchers sought to reduce the psychological distance of climate change by showing a 3D virtual simulation of a storm surge to see if it would change their behaviours and...
Tuesday - The United Arab Emirates planned to use its role as the host of UN climate talks as an opportunity to strike oil and gas deals, the BBC has learned.
Tuesday - As the world transitions to renewable energy, some researchers are looking for a more Earth-friendly alternative to lithium ion batteries.
Tuesday - For nearly a week, the country of 10 million met customer needs with wind, hydro and solar — a test run for operating the grid without fossil fuels.
Tuesday - Growing calls for the world to come to grips with the many ways that global warming affects human health have prompted the first day dedicated to the issue at crunch UN climate talks.
Tuesday - The rapid rise of renewables and EVs has already put us on a safer path.
Tuesday - The voluntary carbon market has the potential to address $4.1 trillion in nature financing gap by 2050 and support Indigenous peoples and local communities — when done right.
Monday - The oil and gas industry faces a reckoning over its role in the clean energy transition, according to an International Energy Agency report.
---