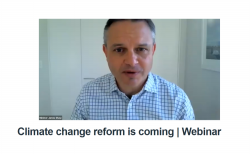 25 Aug 21 - The government is set to launch a consultation document on its emission reduction plan, possibly as soon as next week.

17 Aug 21 - Eighty-five percent of public organisations responding to a Ministry for the Environment survey admitted to not documenting how climate change will impact their ability to carry out their functions.

9 Jul 21 - Participants in the NZ ETS could have limits set on the number NZUs they are holding and be required to disclose their stockpiles under proposals being considered by the Government.

7 Apr 21 - New regulations requiring the financial sector to disclose the greenhouse gas emission of their investment portfolios are needed, the Sustainable Business Network says in its submission to the Climate Change Commission.

6 Apr 21 - An NZU price of $50 is all that's needed to deliver net-zero emissions by 2050, according to the NZ Initiative.

31 Mar 21 - Fuel retailer Z Energy says the Climate Commission's advice on raising the cost containment trigger price of NZUs risks participants stockpiling NZU, affecting liquidity.

30 Mar 21 - Government intervention is likely to be needed to encourage greater investment in green bonds, the Reserve Bank says.
---
29 Mar 21 - Intergovernmental Panel on Climate Change author Bronwyn Hayward has told the Climate Change Commission its draft recommendations are not ambitious enough and larger cuts need to be made in biogenic...
26 Mar 21 - Contact Energy wants all revenues from the Emissions Trading Scheme to be ring-fenced for decarbonisation projects.
26 Mar 21 - Meridian Energy has come out in favour of a feebate scheme for electric vehicles and government intervention to speed up the conversion of fossil-fuel boilers to electricity.
26 Mar 21 - The Climate Change Commission has already received more than 6000 submissions in response to its draft report with two days to go until the extended deadline on Sunday.
24 Mar 21 - Wellington City Council says its emissions reduction targets risk being undermined by the Climate Change Commission's draft carbon budget.
24 Mar 21 - This year's Budget won't include any analysis of the impact of Government policies on climate change, finance minister Grant Robertson says.
24 Mar 21 - The Taxpayers' Union lobby group has gone to the Ombudsman over access to economic modelling underlying the Climate Change Commission's draft recommendations.
23 Mar 21 - Lobby groups from Greenpeace to the Taxpayers' Union are encouraging supporters to make submissions on the ClimCom draft report by using their templates and suggested talking points.
22 Mar 21 - Climate Minister James Shaw appears likely to back any recommendation from the Climate Change Commission to increase price controls in Government auctions of carbon credits.
11 Mar 21 - New Zealanders are significantly less concerned about the impact of climate change than they were a year ago, according to a Colmar Brunton survey.
10 Mar 21 - The first Government auction of carbon credits will go ahead next week with a confidential reserve price in place.
9 Mar 21 - Including a confidential reserve price in next week's Government auction of carbon credits could distort the carbon market, says one of the country's largest emitters.
---