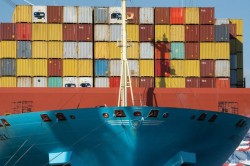 Tuesday - As more world leaders consider levying border taxes on climate-damaging goods, a new study looks at ways it can be done in countries—including the United States—that haven't established a domestic market for carbon emissions.

Tuesday - The world faces a growing paradox in the campaign to contain climate change. The harder it pushes the transition to a greener economy, the more expensive the campaign becomes, and the less likely it is to achieve the aim of limiting the worst effects of global warming.
Tuesday - What if Earth's atmosphere was infused with extra carbon dioxide, mused amateur scientist Eunice Foote in an 1856 research paper that concluded the gas was very good at absorbing heat.
Tuesday - Startup Form Energy has finally made public the battery chemistry behind a technology that the company claims could make challenges of integrating renewable energy a thing of the past and outcompete fossil fuels.
Monday - A group of mostly smaller countries submitted new, more ambitious climate pledges to the United Nations this week, raising pressure on big emitters including China to do the same ahead of a major U.N. climate summit in November.

Monday - China and India, among the world's worst offenders for emissions, have failed to submit updated target proposals to curb the release of carbon dioxide.

Monday - Greenland is experiencing its most significant melting event of the year as temperatures in the Arctic surge. The amount of ice that melted on Tuesday alone would be enough to cover the entire state of Florida in two inches of water.
---
Monday - The global push to reduce atmospheric carbon is being compromised by confusing terminology and misleading claims, argues Dezeen founder and editor-in-chief Marcus Fairs.
Monday - Media Release - People on bikes are set for a smoother ride through the city with the introduction of specialist sweeping machines, made specifically for cycle lanes.
Friday - Cutting greenhouse gas emissions quickly would save tens of millions of lives worldwide, a new study finds
Friday - WWF International president Pavan Sukhde. a former managing director of Deutsche Bank, has expressed support for carbon tariffs in an interview with Yahoo Finance.
Friday - Two of the main themes discussed during the G-7 meeting in June were collective security and climate change action. But an opportunity was missed by separating the issues, argues Limor Simhony.
Friday - If cellular agriculture is going to improve on the industrial system it is displacing, it needs to grow without passing the cost on to workers, consumers and the environment, write Jan Dutkiewicz and...
Friday - Media Release - The Investor Group on Climate Change (IGCC) is excited to announce the Climate Awards are now open for entries.
Thursday - Twenty months after more than 11,000 scientists declared a global climate emergency, establishing a set of benchmarks for the planet's health, an international coalition says its update on those...
Thursday - India was the only one of 51 invited countries that didn't attend a two-day ministerial meeting in the UK capital, hosted by the incoming president of the COP26 United Nations talks.
Thursday - Electricity demand in the European Union has returned to pre-pandemic levels without a corresponding rise in emissions.
Thursday - Rolling Stone's Dililah Friedler argues that the crises facing the Gulf Coast communities of Louisiana is proof of the need for a Climate Change Corps, like the one being promoted in the US Congress.
Thursday - Media Release - It's Earth Overshoot Day again. Two years ago it was 26th July, last year, mostly due to Covid, Earth Overshoot Day was 22nd August, so globally the situation has slightly improved.
---