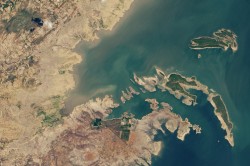 Thursday - Climate change is the biggest threat to human health in Africa and the rest of the world, the head of the continent's public health agency said.

29 Nov 23 - Whistleblowers raise alarm over American consultancy's growing influence in pushing carbon markets and developing energy transition plans.

27 Nov 23 - Heavy rainfall led to extensive flooding in Somalia, Ethiopia, and Kenya in October and November.

20 Nov 23 - More than 100 people, including 16 children, have died and over 700,000 been forced out of their homes in the Horn of Africa due to flash flooding.

31 Oct 23 - Brazzaville, the capital of the Republic of the Congo, had the privilege of hosting the summit of the three major tropical forest basins on the planet.

10 Oct 23 - A joint venture between Swiss and Kenya-based companies has been billed as a springboard for creating a new, green economy in Africa.

9 Oct 23 - Four environmental groups have filed a law suit against the French group TotalEnergies and its EACOP oil project in Tanzania and Uganda.
---
5 Oct 23 - Deforestation in top cocoa producer Ivory Coast increased last year after declining for several years, a major report has found, raising questions about how the country will comply with a new EU law...
5 Oct 23 - While welcomed in principle, the abrupt charcoal ban has left both traders and buyers unsure of where to turn.
2 Oct 23 - At least 11 people have been killed after heavy rain and winds hit South Africa's Western Cape province, including Cape Town, over the weekend leaving a trail of destruction.
25 Sep 23 - CYNK launches as the first Africa-based, end-to-end platform for the measurement, verification and sale carbon credits, with forward trade of more than two million carbon futures credits.
19 Sep 23 - A Nigerian professor is advocating for the use of digital technology to help the nation's struggling farmers cope with global warming.
13 Sep 23 - More than 5000 people are presumed dead and 10,000 missing after heavy rains in northeastern Libya caused two dams to collapse, surging more water into already inundated areas.
11 Sep 23 - The European Commission president asked G20 leaders on Saturday to join a proposal to set up global carbon pricing.
7 Sep 23 - The Africa Climate Summit has ended with leaders calling on the global community to act urgently to reduce greenhouse gas emissions, fulfill its obligations and keep financial promises to fight...
6 Sep 23 - Oil-producing African nations argue they should be able to use fossil fuel resources for economic growth.
5 Sep 23 - Much of the world takes daily weather forecasts for granted. But most of Africa's 1.3 billion people live with little advance knowledge of what's to come.
4 Sep 23 - All countries have a variety of water resources – some are on the surface, like rivers, and some are beneath the ground.
25 Aug 23 - Outcry over a fossil fuel consultancy taking a lead role, and unease over the Kenyan president's focus on finance, raises questions as to whether the summit will truly be "by Africans for Africans".
---