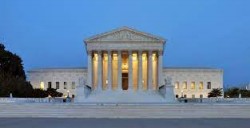 Friday - For two decades, Congress has failed to pass standalone climate change legislation.

Friday - Ever since Canek Aguirre got elected to the Alexandria City Council, he wanted to make the city's bus transit service, known as DASH, free.
Thursday - A group of 15 trainees will be heading out into the field to begin converting two Alberta oilfield sites into solar farms, after graduating from a rapid upskilling program for fossil industry and Indigenous workers hosted by Iron & Earth and Medicine Hat College.

23 Jun 22 - Harvard University announced yesterday that it had received a $200 million gift from Melanie and Jean Eric Salata, which it will use to establish the Salata Institute for Climate and Sustainability, providing a campus hub for multidisciplinary research and education about climate and the environment.

22 Jun 22 - THE US Navy next week will host an open-source table-top wargame to experiment with how climate change could affect a future conflict, a service official said today.

21 Jun 22 - Ask most gardeners what they think of moss and the chances are you will get a string of expletives in return.

17 Jun 22 - The New England Journal of Medicine kicks off a series of articles Thursday with an examination of the effects of air pollution on children's health.
---
17 Jun 22 - The world's first carbon border fee was always expected to roil nations that export their emissions through polluting goods. Now it could go further than originally proposed.
15 Jun 22 - Plants are the original carbon capture factories—and a new research program aims to make them better ones by using gene editing.
15 Jun 22 - One highly touted way of reducing one's carbon footprint is to cut down on fossil fuel use in everyday life. For many Americans, this can mean finding transportation alternatives to air travel.
10 Jun 22 - More than a decade ago, the clothing world's ultimate would-be do-gooder, Patagonia, partnered with Walmart to clean up the fashion industry's environmental image. The reason was obvious: The garment...
10 Jun 22 - Colorado-based Prometheus Materials has developed masonry blocks from a low-carbon cement-like material grown from micro-algae.
9 Jun 22 - When landfills get capped and grassed over, they have the appearance of lush, rolling hills. Despite their green appearance, however, these sites are known as "brownfields"—a term for an...
3 Jun 22 - Citing the climate crisis, the Los Angeles City Council voted Friday to ban most gas appliances in new construction, a policy that's expected to result in new homes and businesses coming equipped...
1 Jun 22 - The US is doing a pretty horrible job of following through on promises it's made to tackle climate change, according to two separate new studies.
1 Jun 22 - It's hard not to love trees. They provide us with shade during the scorching heat of summer, help clean the air and water, and improve our physical and mental well-being. Now, a recent study has...
30 May 22 - Two recent mass shootings in communities of color are renewing fears among environmental groups and climate activists that a growing number of young men are adopting racist right-wing ideologies to...
30 May 22 - The officially disclosed carbon footprints of Canada's largest oil companies could balloon in size if tough new climate rules proposed earlier this year by a U.S. regulator come into effect.
27 May 22 - Yesterday Verra, the Washington-based non-profit that sets voluntary carbon credit standards, said it is immediately stopping the practice of creating blockchain tokens or instruments based on...
---