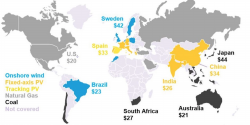 Monday - Last week, BloombergNEF's released estimates for its global benchmark that tracks the levelized cost of electricity, or LCOE, for utility-scale PV and onshore wind. The LCOE looks at the all-in cost to build, operate, and maintain power plants and then calculates the cost per megawatt-hour (MWh) of the energy produced based on all of those inputs.

Monday - Fossil fuel companies are suing governments across the world for more than US$18bn after action against climate change has threatened their profits, according to research conducted by campaign group Global Justice Now.

Monday - Developed countries made almost no progress toward their goal of providing $100 billion a year to help poor countries tackle climate change, figures from the OECD showed on Friday.

Monday - Never before in German history has climate policy played a role as big as it does in 2021. Even after one and a half years of a turbulent pandemic, credible climate policies remain the yardstick many voters plan to base their decision on.

Monday - Sinking seaweed could sequester a lot of carbon, but researchers are still grappling with basic questions about reliability, scalability and risks.

Friday - The pace of climate change has not been slowed by the global COVID-19 pandemic and the world remains behind in its battle to cut carbon emissions, according to the United Nations.

Friday - The timing of the new defence deal between the US, UK and Australia has dismayed climate experts, who fear it could have a negative effect on hopes of a deal with China on greenhouse gas emissions ahead of vital UN climate talks.
---
Friday - A giant ozone hole has opened up over Antarctica this year. Already larger than the entire ice-covered continent, the ozone hole has surpassed the size of 75% of ozone holes measured since 1979 and...
Friday - Work has started on a pioneering wind farm on the Magellan Straits in southern Chile that will produce green hydrogen and help Porsche produce e-fuels, with Chilean energy minister Juan Carlos...
Friday - Climate change was a big theme in Time Magazine's 2021 list of "Most Influential People," with a handful of climate scientists and environmental advocates making the list along with celebrities like...
Thursday - None of the world's major economies -- including the entire G20 -- have a climate plan that meets their obligations under the 2015 Paris Agreement, according to an analysis published Wednesday,...
Thursday - James Hansen, a climate scientist who shook Washington when he told Congress 33 years ago that human emissions of greenhouse gases were cooking the planet, is now warning that he expects the rate of...
Thursday - "We, the undersigned, call on governments around the world to adopt and implement a Fossil Fuel Non-Proliferation Treaty, as a matter of urgency, to protect the lives and livelihoods of present and...
Thursday - Guido Montani, a professor of international political economy at the University of Pavia, argues the time has come for a "Constitution of the Earth."
Thursday - The extreme bush fires that blazed across southeastern Australia in late 2019 and early 2020 released 715 million tonnes of carbon dioxide into the air — more than double the emissions previously...
Wednesday - The number of extremely hot days every year when the temperature reaches 50C has doubled since the 1980s, a global BBC analysis has found.
Wednesday - Without immediate action to combat climate change, rising sea levels, water scarcity and declining crop productivity could force 216 million people to migrate within their own countries by 2050, the...
Wednesday - Farming subsidies worth around $500 billion doled out by governments every year must be repurposed, three UN agencies warned on Tuesday, citing the environmental and health damage they cause.
Wednesday - An all-vegan stadium. A field fertilized with seaweed. How the owner of the sport's most sustainable team is cultivating "a new kind of soccer fan."
---