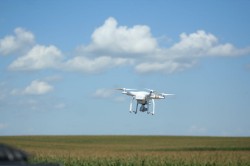 28 Jul 20 - Businesses that add value to nature instead of degrading and destroying it could tap into a $10.1 trillion opportunity which could create 395 million jobs by 2030.

28 Jul 20 - Back in January, Microsoft announced arguably the most ambitious climate plan of any tech company to date.

10 Jul 20 - The pandemic has revealed deep flaws in the world's food system and food leaders are calling for global coordination and climate resilient agriculture.

7 Jul 20 - If you're looking for pioneering carbon dealer Nigel Brunel outside trading hours, chances are you'll find him somewhere around Auckland on his bike.

18 Jun 20 - Financial disclosure of companies' climate and carbon risk won't drive change without other measures, new research warns.

16 Jun 20 - Climate Leaders' Coalition member Unilever says it will spend nearly $2 billion globally over the next decade on low-carbon projects ranging from regenerative agriculture to carbon sequestration.

8 May 20 - Mayors from many of the world's leading cities have warned there can be no return to "business as usual" in the aftermath of the coronavirus crisis if humanity is to escape catastrophic climate breakdown.
---
7 May 20 - Small businesses wanting to cut emissions have a new guide to show them how to do it.
5 May 20 - Major investors are backing calls to make the covid-19 economic recovery consistent with cutting greenhouse gas emissions.
1 May 20 - Big Business is pushing for low-carbon projects to be a priority for covid-19 pandemic recovery funding.
16 Apr 20 - A company that imports insulation panels from Europe wants all small businesses to join it in cutting greenhouse gas emissions.
8 Apr 20 - NZX says every business should have to disclose its climate-risk exposure.
30 Mar 20 - The coronavirus pandemic and its economic fallout will trigger a skyward surge in sustainable, responsible and impactful investing over the next 12 months, says the CEO of one of the world's largest...
6 Mar 20 - An influential group of investors is for the first time demanding that all UK-listed companies disclose how the climate emergency will impact their business.
5 Mar 20 - New Zealand accounting software company Xero says it has completely offset its carbon footprint for the past financial year.
28 Feb 20 - Reputational damage, financial vulnerability and a lack of access to capital are likely impacts on firms that fail to respond to the climate crisis this decade, experts surveyed for a new study say.
27 Feb 20 - Parts of the tourism industry are so ill-informed about what climate change could do to New Zealand that they think the sector could actually benefit from it, a new report says.
27 Feb 20 - JPMorgan Chase, one of the world's biggest lenders to fossil fuel projects, will curb loans to coal firms and bar the financing of oil and gas developments in the Arctic.
25 Feb 20 - Taxpayer-funded carbon credits were worth $12.1 million last year to Tiwai Point aluminium smelter operator Pacific Aluminium.
---