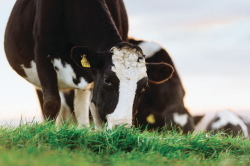 10 Nov 23 - Fonterra has announced it is targeting a 30% intensity reduction in on-farm emissions by 2030 from a 2018 baseline.

21 Sep 23 - The government is putting $10.5 million towards breeding the "sheep of the future," which will create fewer methane emissions as well as coping with hotter temperatures as summers heat up.

19 Sep 23 - The agriculture sector is calling for a review of New Zealand's methane targets, citing a report suggesting Kiwi farmers are being asked to do more than their fair share in terms of reductions.
13 Sep 23 - A joint venture of major New Zealand agribusiness companies and the government has invested $4.1 million in a US start-up aiming to develop feed supplements to reduce methane emissions from cows.

11 Aug 23 - The Environmental Protection Authority has approved a feed additive that could reduce methane emissions from livestock by 30%.

20 Jul 23 - The government is giving Fonterra $90 million as part of a $790 million investment to cut coal use at six of its dairy factories.

13 Jul 23 - The directors of six National Science Challenges are joining calls to the government to develop a national food strategy for New Zealand - one that will help reduce emissions as well as increase resilience to the climate crisis.
---
13 Jun 22 - The NZ Institute of Forestry has declared last week's He Waka Eke Noa emissions pricing proposal all talk and no action.
8 Jun 22 - He Waka Eke Noa, the Primary Sector Climate Action Partnership, is proposing a farm-level split gas levy as its preferred alternative to pricing agriculture emissions through the Emissions Trading...
1 Jun 22 - A life cycle evaluation used to determine environmental impacts, including indicators for climate impact and land use, has revealed that ordinary cheese is a major cause of carbon emissions.
17 May 22 - A Western Australian company claims to have produced bioactives in a laboratory that could reduce livestock methane emissions by up to 95%.
9 Feb 22 - Climate change concerns from buyers and regulators are pushing agricultural commodity groups in new directions. Some have even started to participate in carbon-capture incentive programs such as...
19 Nov 21 - Plans to pay farmers for the biodiversity benefits they deliver have progressed today with the Australian Government kicking off the legislation process.
20 Sep 21 - Climate Change minister James Shaw says it's great to see the EU and US committing to reducing methane emissions by 30% over the next nine years but isn't committing the government to signing New...
15 Jul 21 - Proposals in a recent biogas report, part-funded by the Energy Efficiency and Conservation Authority (EECA), risks locking in agricultural practices that harm the country's soils and waters and...
6 Apr 21 - Research shows rising temperatures since 1960s have acted as a handbrake on agricultural yield of crops and livestock
30 Mar 21 - The average western consumer of coffee, chocolate, beef, palm oil and other commodities is responsible for the felling of four trees every year, many in wildlife-rich tropical forests, research has...
4 Mar 21 - The alternative protein market in China is positioned to continue its rapid growth in the coming years, driven by the rise of flexitarianism in the country.
1 Mar 21 - Sheep and beef farms are sequestering much less carbon than the drystock sector claims, officials say.
---