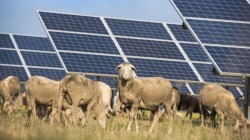 Today 10:30am - Agrivoltaics researchers are finding that the multiple benefits from pairing solar power and crops production help increase citizen engagement and support.
Today 10:30am - The nation's collective intelligence community identified 11 countries vulnerable to geopolitical instability due to climate change in its first-ever National Intelligence Estimate on Climate Change report.

Today 10:30am - A smelting company has poisoned rivers, killed off boreal forest and belched out more sulfur dioxide than active volcanoes. Now it wants to produce more metal for the "green economy."

Wednesday - If we want to tackle the climate crisis, we need to address a global blindspot: the vast underground fungal networks that sequester carbon and sustain much of life on Earth.

Wednesday - Someone's bound to hack the atmosphere to cool the planet. So we urgently need more research on the consequences, says climate scientist Kate Ricke.

Wednesday - A team of researchers from China and the U.S. has found that it should be possible to dramatically reduce deaths due to air pollution over the coming decades if climate mitigation strategies are designed with short-term health improvements in mind.

Tuesday - Financial institutions are facing a US$22-trillion time bomb due to their investments in carbon-intensive industries, Bloomberg News reports, citing a study last week by Moody's Investment Services.
---
Tuesday - The world's largest stewards of capital are struggling to move the needle on companies' carbon footprints and emissions reduction efforts, according to research conducted by EDHEC-Risk Institute.
Tuesday - Ship operators have been urged to switch to cleaner fuels in the Arctic, under a resolution to cut black carbon emissions at the International Maritime Organization (IMO) last week.
Tuesday - Member states are pushing the climate crisis on the trade agenda at the upcoming Ministerial Conference in Geneva. But looking at the World Trade Organization's track record, it could be too late...
Monday - Further shipping talks are scheduled for next year after delegates at a U.N. agency meeting that sought to speed up decarbonization of the sector failed to make progress, officials said on Friday.
Monday - Rare footage of a polar bear chasing a reindeer into the water and killing it could be another stark indication of climate change.
26 Nov 21 - The Arctic Ocean has been warming since the onset of the 20th century, decades earlier than instrument observations would suggest, according to new research.
26 Nov 21 - Climate change is changing how human beings live on the earth as floods, wildfires and extreme weather change the land and destroy property.
26 Nov 21 - It's time to talk about technologies seen as clean that may be causing our planet significant harm
25 Nov 21 - The Energy Charter Treaty is not widely known, yet it's feared the influence of this international agreement could be enough by itself to derail hopes of capping global heating to 1.5 degrees Celsius.
25 Nov 21 - Nations are poised to begin building an international carbon market, after finally adopting the relevant rules at the UN climate conference in Glasgow earlier this month.
25 Nov 21 - New research led by the University of Leeds has found that using carbon tax revenue to fund free green electricity and public transportation could significantly reduce households' greenhouse gas...
25 Nov 21 - When relationships end it might be because the spark has disappeared, or maybe you just can't make time for one another.
---