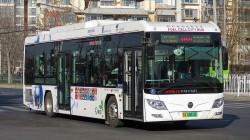 9 Aug 22 - Three Chinese organisations are leading the charge to create an international carbon market for green hydrogen.

3 Aug 22 - Seven industrial sectors in China have been assigned targets to reduce energy consumption and boost recycling to reach peak carbon dioxide emissions by 2030.

27 Jul 22 - China's climate commitments are making their way into the country's university classrooms.

14 Jul 22 - China will encourage more residential communities to evolve into low-carbon ones as part of the country's efforts to meet its climate goals.

11 Jul 22 - Countries must lessen their dependence on China's production of solar panels and dramatically boost manufacturing capacity to reach net-zero emissions, the International Energy Agency has said.

8 Jul 22 - China is trying to tap the emissions reduction potential of personal consumption, and package such reductions as a class of carbon asset to be incorporated into the country's growing carbon market.

20 Jun 22 - China Friday announced that it will ban new steel, coking, oil refining, cement, and glass projects in key zones to combat climate change by lowering pollution and carbon emissions.
---
16 Jun 22 - China has made great achievements in carbon reduction, with its carbon dioxide emissions per unit of GDP in 2021 plunging by 50.3 percent from 2005, an official said Wednesday.
10 Jun 22 - Carbon market players are watching closely to see how China's version of carbon credits, the China Certified Emission Reductions (CCER) scheme, will be rebooted.
31 May 22 - By Jeremy Rose | Last month saw the opening of the China-Pacific Island Countries Climate Action Cooperation Centre in Liaocheng City, Shandong Province. It's opening, perhaps not surprisingly,...
31 May 22 - China's carbon dioxide (CO2) emissions fell by an estimated 1.4% in the first three months of 2022, making it the third quarter in a row of falling emissions.
8 Apr 22 - China's carbon emissions could peak three years ahead of the 2030 government target, according to a report published on 31 March by the Chinese Academy of Engineering (CAE), a state-affiliated think...
4 Apr 22 - China's decision to stop funding new coal power projects overseas has been welcomed by climate experts, but they were equally disappointed by Beijing's commitment for projects already under...
30 Mar 22 - Late last year, following widespread power shortages, China's leadership repeatedly emphasised the importance of ensuring energy security – a country's ability to secure sufficient and affordable...
28 Mar 22 - China's newly launched national carbon emissions trading system (ETS), the world's largest, needs to raise its game on fraud prevention by imposing steeper penalties on offending companies to deter...
23 Mar 22 - A researcher who helped design China's national carbon market said it will expand into new sectors later than expected, a setback for a key tool in President Xi Jinping's drive to cut the world's...
16 Mar 22 - China's environment ministry has slammed firms for falsifying carbon data, part of the country's efforts to improve data quality as it prepares to expand its national emissions trading scheme into...
7 Mar 22 - China's declining coal industry got a boost on the weekend when Chinese President Xi Jinping called for a "realistic" approach to achieving the country's carbon neutrality goals.
3 Mar 22 - Reaching peak carbon emissions before its 2030 target could help China to avoid more 600,000 deaths from exposure to the most deadly small particles over the following two decades, a study has found.
---