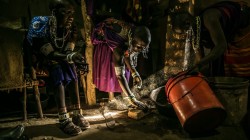 5 Aug 22 - African climate negotiators have quashed a proposal by the African Union to promote gas as a bridge fuel for the continent at UN talks.

28 Jul 22 - The Democratic Republic of Congo (DRC) has announced that it will auction off vast quantities of critical tropical peatlands and rainforests for oil and gas drilling, just months after promising to preserve them at the COP26 climate conference.

22 Jul 22 - Husk Power Systems, an off-grid energy services company, aims to provide two million people in rural Nigeria with reliable solar power.

22 Jul 22 - Democratic Republic of the Congo's government is preparing to auction off a series of licenses to drill for oil in the Congo basin. This threatens to damage around 11 million hectares of the world's second largest rainforest.

19 Jul 22 - In the south of Morocco's High Atlas mountains is one of the few palm tree oases still inhabited in the country.

14 Jul 22 - In October 2021, the city of Guriel in Somalia's Galguduud region became the epicenter of fierce fighting between the national army and a paramilitary group that left more than 100 people dead and displaced another 100,000.

14 Jul 22 - Climate change mitigation efforts in Kenya have received new impetus after the Nairobi Securities Exchange (NSE), inked a deal with the AirCarbon Exchange (ACX) and the Nairobi International Finance Centre (NIFC) to set up Kenya's first carbon offset exchange.
---
5 Jul 22 - For Gabon, forests are rich in with economic opportunity. The country plans to create 187 million carbon credits and sell half of them on the offset market.
4 Jul 22 - Coffee-growing farmers in Tanzania's northern Kilimanjaro region are bearing the brunt of climate change, which is affecting their incomes and livelihoods.
28 Jun 22 - The Republic of Kenya must pay the Indigenous Ogiek people reparations for decades of illegal evictions from their ancestral land in the Mau Forest.
27 Jun 22 - Commonwealth leaders last week adopted the "Living Lands Charter", which commits all member countries to safeguarding global land resources while taking coordinated action on climate change,...
7 Jun 22 - As the developed world demands emissions cuts, the continent's leaders are asking whether it is possible to industrialize on green energy alone.
31 May 22 - As food and energy security emerge as top priorities in several regions, an innovative use of existing technologies might help serve both: Agrivoltaic projects allow energy production and...
26 May 22 - Carbon offsets have been criticised for failing to provide carbon savings and ignoring the needs of local communities. But in Tanzania, hunter-gatherer tribes are earning a good return for their...
24 May 22 - Failing to conserve the carbon-rich forests of the Congo Basin would mean the world loses the fight against climate change, officials in Gabon have warned.
9 May 22 - In a bid to protect coastal communities from climate change and encourage investment, African nations are increasingly turning to mangrove restoration projects, with Mozambique becoming the latest...
5 May 22 - Cabinet ministers in the Democratic Republic of Congo have approved the auction of 16 oil blocks, including in one of the world's largest carbon sinks and most environmentally sensitive areas.
4 May 22 - The leaders of the Economic Community of West African States (ECOWAS), a regional, political and economic union of west African countries, recently agreed to spend $294 billion over the next 10 years...
22 Apr 22 - The climate is surely one area where the European Union and African Union should be in step with one another. Curbing global warming and agreeing how to produce clean power would help keep more of...
---