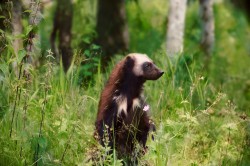 Today 11:00am - The North American wolverine will receive long-delayed threatened species protections under a Biden administration proposal released in response to scientists warning that climate change will likely push them toward extinction.

23 Nov 23 - A projected drop in US greenhouse gas emissions—one of the largest of the past decade—is still not enough to meet the country's commitments under the Paris climate accord.

20 Nov 23 - Less parking could pave the way for denser housing and more accessible public transportation.

16 Nov 23 - The report concludes that Indigenous self-determination is a key climate solution — if the federal government can get behind it.
14 Nov 23 - Even though we now have the Paris agreement, cooperation between the world's two biggest emitters, US and China, is still crucial.

13 Nov 23 - The U.S. pushed for voluntary payments in a high-stakes negotiation over a global fund for climate disasters.

3 Nov 23 - Scrubbing carbon dioxide from the air is imperative if humanity is to limit global warming, experts say, and a California startup says it can do just that, using limestone as a carbon-sucking sponge.
---
1 Nov 23 - The United States is working behind the scenes to ensure nuclear power is not excluded from an expected global pledge to boost renewables at the upcoming climate summit in Dubai.
30 Oct 23 - Hurricane Otis' extremely rapid intensification — so close to the Mexican coast — was one of the biggest, most high-stakes hurricane forecasting failures in years.
25 Oct 23 - Damages from the global climate crisis have racked up costs amounting to $391 million per day over the past two decades, a report showed.
24 Oct 23 - A company has abandoned plans to build a 1,300-mile pipeline across the US Midwest to collect and store carbon emissions from the corn ethanol industry following opposition from landowners.
20 Oct 23 - September was a scary month — or as one prominent climate scientist termed it, "gobsmackingly bananas."
17 Oct 23 - Last month, we heard yet again about the need to stop global warming at about 1.5 degrees centigrade above pre industrial levels.
10 Oct 23 - Fortune 500 companies are responsible for nearly a third of all greenhouse gas emissions—and many of them would like you to think they're doing their best to shrink that.
5 Oct 23 - Coffee is a finicky crop — arabica coffee, the most popular variety, in particular. And climate change poses a huge threat to the coffee business and to farmers.
4 Oct 23 - In the U.S., where climate policy has been highly politicized, the concept of a carbon tariff has recently emerged with rare bipartisan support.
4 Oct 23 - As flash floods inundated New York City, Mayor Eric Adams said: "If you're home, stay home." But for those living in below-ground apartments in basements and cellars, that was not an option.
3 Oct 23 - European insurers are underwriting almost a third of US coal production despite their net zero pledges, according to research.
29 Sep 23 - A new report finds aluminum manufacturing worldwide emits more than a billion tons of carbon dioxide annually, as well as chemicals called perfluorocarbons that warm the planet for 50,000 years.
---