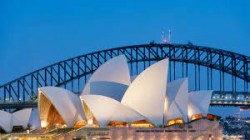 Tuesday - The Australian government has announced the appointment of an independent panel (Panel) to review the integrity of Australian Carbon Credit Units (ACCUs).

Tuesday - The European Court of Human Rights said Thursday that a complaint against 33 countries filed by six young Portuguese climate activists will be examined by the tribunal's top panel of judges, a move reflecting the case's legal significance.

Tuesday - Italian prime minister Mario Draghi joined scientists in pointing to the climate emergency as the cause of a deadly glacier collapse in the Italian Alps on Sunday afternoon, saying policymakers must act to ensure avalanches don't become a more regular occurrence.

Tuesday - On a fine day, locals arrive on boats that motor up the Hawkesbury River in New South Wales to dine on the back deck of the Paradise Café.

Tuesday - Restoring degraded environments, such as by planting trees, is often touted as a solution to the climate crisis. But our new research shows this, while important, is no substitute for preventing fossil fuel emissions to limit global warming.

Tuesday - For Gabon, forests are rich in with economic opportunity. The country plans to create 187 million carbon credits and sell half of them on the offset market.

Monday - Energy use rose by 5.8% last year while carbon emissions also increased, though fossil fuels continued to make up a smaller chunk of global energy use, according to BP's recently released "Statistical Review of World Energy."
---
Monday - Coffee-growing farmers in Tanzania's northern Kilimanjaro region are bearing the brunt of climate change, which is affecting their incomes and livelihoods.
Monday - A study published last month in the peer-reviewed journal Nature Climate Change sought to understand the potential impact of artificial intelligence on climate change.
Monday - British climate activists have glued their hands to the frames of three valuable works of art — including one from Vincent van Gogh — in three separate incidents this week to protest the United...
Monday - Science has a resistance to ill-founded assertions embedded deep in its bones. Carl Sagan called this "baloney detection." But in the face of climate change, arguably our largest science-related...
Monday - Australia's new government is putting climate change at the top of its legislative agenda when Parliament sits next month for the first time since the May 21 election, with bills to enshrine a cut in...
Friday - For two decades, Congress has failed to pass standalone climate change legislation.
Friday - A quarter of all climate change-related legal cases since the 1980s were filed in the last two years, according to new research Thursday showing surging litigation targeting governments, fossil fuel...
Friday - By assisting the developing world's green transition, Europe could mitigate the protectionist threat in its climate agenda.
Friday - The solar and storage resources of Australian households and businesses will have the capacity to meet nearly one-fifth of national electricity market demand by 2050, and rooftop solar alone could...
Friday - Ever since Canek Aguirre got elected to the Alexandria City Council, he wanted to make the city's bus transit service, known as DASH, free.
Friday - Despite being "yucky" according to some picky eaters, broccoli is well-suited to grow alongside solar panels, according to a new study.
Thursday - Fresh research suggests transport accounts for one-fifth of total food-system emissions, with fresh fruit and vegetables amongst the most carbon-intensive.
---