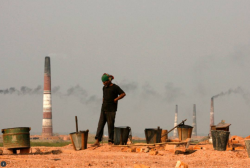 2 Jul 21 - Bangladesh has cancelled plans to build 10 coal-fired power plants, a government official said on Monday, amid rising costs for the fuel and increasing calls from activists to base more of the nation's power on renewable energy.

28 Jun 21 - The world's first industrial cultured meat facility has opened in the city of Rehovot, Israel.

18 Jun 21 - The United States is ending a Cambodian aid programme aimed at protecting one of its biggest wildlife sanctuaries, citing worsening deforestation and harassment of those who speak out about destruction of natural resources.

17 Jun 21 - Singapore is launching a carbon trading marketplace focused on nature conservancy projects, a move that could protect at-risk tropical forests in the region while unlocking a ready source of carbon credits for businesses.

17 Jun 21 - Kimiko Hirata has spent nearly half her life fighting to wean Japan off its dependence on coal, and now isn't the time to slow down, the award-winning activist warns.

16 Jun 21 - Switzerland has agreed in principle to offset part of its carbon emissions reduction target by supporting green projects in Thailand.

15 Jun 21 - Kyrgyzstan has plans to increase meat production by 4 per cent while cutting GHG emissions by 17 per cent.
---
14 Jun 21 - Traditional Indian housing is more suitable to climate change than its modern replacements, a new study has found.
10 Jun 21 - India may lose anywhere around 3 to 10 per cent of its GDP annually by 2100 and its poverty rate may rise by 3.5 per cent in 2040 due to climate change, according to a new report.
9 Jun 21 - The Indonesian government is working on amending the country's tax law, which will include a new carbon tax scheme aimed at increasing state revenue from several industries.
3 Jun 21 - Climate Change is contributing to the five to six per cent of food wasted in New Zealand and Australia and the 20 to 21 per cent wasted in central and southern Asia, according to the Food and...
3 Jun 21 - In April, mountaineers began tackling Everest for the first time since the pandemic began, but climate change in the Himalayas and other mountain ranges around the globe is making climbing more...
31 May 21 - A virtual climate summit got underway in South Korea on Sunday with pledges to play a bigger role in the drive towards a greener global economy.
24 May 21 - A new Singapore-based global exchange for high-quality carbon credits will be launched by the end of the year.
21 May 21 - Experts have criticized Indonesian President Joko Widodo for not announcing a more ambitious climate target at last month's leaders' summit.
18 May 21 - Climate change, water shortage and pollution are worst for Asia's cities, researchers say. The rest of us have a lucky escape.
11 May 21 - With the sub-continent battling a vicious Covid onslaught, the worst fires in years are adding to South Asia's woes.
11 May 21 - Some Toyota Motor shareholders have criticized its President Akio Toyoda for questioning Japan's plans to ban conventional cars only days after the firm said it was reviewing its climate lobbying and...
3 May 21 - A group of non-governmental organisations called on the Asian Development Bank (ADB) on Monday to end loans to the fossil-fuels sector, as the international lender holds its annual meeting this week...
---