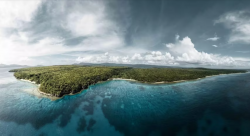 24 Nov 23 - Roughly 90 kilometres from northern Bougainville, the Carteret Islands were the first place in the world to move people due to climate change-related sea level rise.
13 Nov 23 - Australia has signed a security, climate change and migration accord with Tuvalu, which analysts say also highlights Canberra's attempts to counter China's growing influence in the region.

8 Nov 23 - The PIF Leaders' Meeting is an important chance to jolt the world into action on a climate Loss and Damage Fund after decades of fighting for justice.

6 Nov 23 - The Pacific Islands are on the frontline of climate change, with the future for many living there becoming increasingly uncertain.

13 Sep 23 - Fiji's first verified forest carbon credit project is based in the Drawa rainforest on the country's largest island, and has been earning income for its Indigenous landowners for five years.

29 Aug 23 - The Melanesian Spearhead Group released their resolve to address the climate crisis which is undermining human rights, destroying ecosystems and upending development.
29 Aug 23 - Australia and China pledged more support for the Pacific Islands against climate change, as the leaders of four nations debate declare the strategic region "neutral" as China and the US jostle for influence.
---
24 Aug 23 - The Australian Climate and Energy Minister is in Fiji to "discuss strengthened cooperation on climate action".
23 Aug 23 - The Pacific Island nation of Papua New Guinea makes up just 1 percent of the world's land mass but hosts almost 7 percent of its biodiversity.
21 Aug 23 - Weather-related disasters and climate change impacts are unravelling the fabric of society in the South-West Pacific.
15 Aug 23 - As heat records tumble and the sea level rises, Fijians on the front lines of the Pacific climate crisis want Australia, and other global emitters, to do more of the heavy lifting.
7 Aug 23 - As the Cook Islands embraces the burgeoning industry, deep-sea mining companies are becoming part of the community's day-to-day.
31 Jul 23 - France's President Emmanuel Macron stripped off his suit jacket to wander the wild forests of Papua New Guinea on a green-tinted charm offensive in the South Pacific.
25 Jul 23 - A concept that will become ever more familiar – in the courts, too – with more action needed to avoid irreversible consequences of climate change.
11 Jul 23 - In a remote community in Malaita Province, Solomon Islands, 10,000 bees have recently taken up residence and local keepers-in-training are buzzing to get to work.
11 Jul 23 - Nauru sees rare earth metals as key to the green transition. But mining them could threaten vital marine ecosystems.
29 May 23 - Pacific Island leaders will meet South Korea's President in Seoul on Monday, their third summit in a week with a large economy as the region seeks stronger action on climate change.
17 May 23 - Pacific Island leaders are criticizing rich countries for not doing enough to control climate change despite being responsible for much of the problem, and for profiting from loans provided to...
24 Apr 23 - Like many mothers, Janet Iaticknu gets up in the morning and helps her children get ready for school.
---