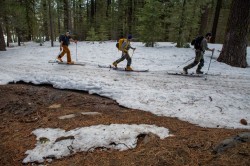 Friday - The Western US is an empire built on snow. And that snow is vanishing.

Thursday - The climate deal reached last week by Senate Democrats could reduce the amount of greenhouse gases that American farmers produce by expanding programs that help accumulate carbon in soil, fund climate-focused research and lower the abundant methane emissions that come from cows.

Wednesday - The Biden administration is providing states with more detail about how they can use money from the federal infrastructure law to protect people and structures from the perils of climate change, a move that's drawing cheers from both political parties.

Wednesday - Since Seattle-based Amazon pledged to cut its carbon output in 2018, the company has strayed further from its climate pledge. Amazon's companywide emissions increased by 18% in 2021 alone, according to its own sustainability report.

2 Aug 22 - Aiming to reduce mercury hazards and boost energy efficiency, Vermont will prohibit the sale of the long, tube-shaped fluorescent lamps that light up supermarkets, office buildings and classrooms as of Jan. 1, 2024.

1 Aug 22 - Biden's climate bill is better than nothing — but just barely. "It's a renewable energy revolution on top of a fossil fuel build-out," says one climate advocate: in other words, a historic clean energy investment chained to a fossil fuel giveaway.

29 Jul 22 - Senate Majority Leader Chuck Schumer, D-N.Y., and Sen. Joe Manchin, D-W.V., on Wednesday unveiled a long-anticipated reconciliation package that would invest hundreds of billions of dollars to combat climate change and advance clean energy programs.
---
27 Jul 22 - The Biden administration says the government will plant more than one billion trees across millions of acres of burned and dead woodlands in the U.S. West, as officials struggle to counter the...
20 Jul 22 - The White House is scrambling to reassure Democratic voters that President Joe Biden can still take action on climate change after another blow to proposed climate legislation from Senator Joe...
18 Jul 22 - White House economic adviser Jared Bernstein told CNN on Sunday that President Joe Biden will pursue his climate agenda "with or without Congress," following the news Thursday that West Virginia...
13 Jul 22 - A global transition to cleaner energy sources could be the world's best opportunity to minimise the chance of global conflicts, the US energy secretary has told a major energy forum in Sydney.
13 Jul 22 - Even as farms decline across the US, a longer growing season is bringing food security to a state that has long relied on sustenance from afar.
11 Jul 22 - Climate groups raised the alarm and put President Joe Biden on notice after the Bureau of Land Management opened the public comment period Friday for a proposed drilling project in the Alaskan Arctic...
7 Jul 22 - Many big companies have pledged to offset some of their carbon pollution by investing in tree planting project
1 Jul 22 - For two decades, Congress has failed to pass standalone climate change legislation.
1 Jul 22 - Ever since Canek Aguirre got elected to the Alexandria City Council, he wanted to make the city's bus transit service, known as DASH, free.
30 Jun 22 - A group of 15 trainees will be heading out into the field to begin converting two Alberta oilfield sites into solar farms, after graduating from a rapid upskilling program for fossil industry and...
23 Jun 22 - Harvard University announced yesterday that it had received a $200 million gift from Melanie and Jean Eric Salata, which it will use to establish the Salata Institute for Climate and Sustainability,...
22 Jun 22 - THE US Navy next week will host an open-source table-top wargame to experiment with how climate change could affect a future conflict, a service official said today.
---