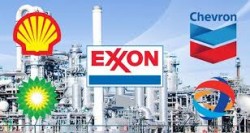 Today 10:30am - Several major oil companies, including BP and Shell, periodically publish scenarios forecasting the future of the energy sector. In recent years, they have added visions for how climate change might be addressed, including scenarios that they claim are consistent with the international Paris climate agreement.

Tuesday - Is the world making progress on tackling climate change? Or is it stalling?

11 Aug 22 - Last month marked one of the three hottest Julys ever recorded, with global temperatures measuring nearly half a degree Celsius above average, the United Nations' weather agency has said

10 Aug 22 - Global guidelines on corporate climate reporting must fall in line with those in Europe and the US or investors could be hit by fragmented and inconsistent information, the European Central Bank and IMF have warned.

8 Aug 22 - Concern has been raised by China's decision to stop working with the US on the climate catastrophe, and seasoned climate diplomats are calling for a quick restart of negotiations to help prevent worsening global warming.

8 Aug 22 - On 25 April 2022 Australia's public radio station replayed an interview with Jonathan Franzen in which the American author suggested we should resign ourselves to the climate crisis. "We literally are living in end times for civilisation as we know it… We are long past the point of averting climate catastrophe," he intoned ominously.

4 Aug 22 - Global renewable energy investment reached a record $US226 billion across the first six months of 2022, an 11% year-on-year increase which defied supply chain challenges and cost inflation to highlight growing demand for clean energy.
---
2 Aug 22 - Carbon Brief | Despite the widely recognised need to quickly move away from fossil fuels, particularly coal, many countries continue to invest in this highly polluting source of energy.
2 Aug 22 - When it's completed, Norway's Hywind Tampen will be the world's largest floating offshore wind farm. Compared with most wind farms—even other offshore wind farms—the Hywind Tampen is unusual: the...
2 Aug 22 - When record temperatures wracked the UK in late July, Google Cloud's data centres in London went offline for a day, due to cooling failures. The impact wasn't limited to those near the center: That...
2 Aug 22 - Last week, a legion of young climate activists announced their intention to occupy schools around the world later this year, in a bid to pressure policymakers into doing more to combat the climate...
1 Aug 22 - Rich countries are still failing to fulfill their pledge to provide $100 billion for climate action in poorer nations, the Organization for Economic Co-operation and Development (OECD) said on Friday.
29 Jul 22 - The world's most influential banks need to substantially accelerate climate efforts if global temperature rise is to be kept within the livability targets of the Paris Agreement, an assessment...
28 Jul 22 - The story of how ESG investing began is almost as wonky as its name.
28 Jul 22 - Calls for climate reparations are growing around the world as countries in the Global South face the worst impacts of the climate emergency.
28 Jul 22 - Air pollutants released by rocket launches, re-entry, and space debris have a disproportionate effect on global warming, according to a new study. They also have the potential to undo some of the...
28 Jul 22 - Much has been done by countless people, organizations, businesses and leaders to stave off the effects of climate change. Over decades, concerned individuals have changed their diets, switched to...
27 Jul 22 - Trees can be powerful allies in the fight against global heating because they can trap CO2 and lock it away. But planting billions more of them won't be enough to save the climate.
26 Jul 22 - Climate change will make it harder for the world's poorest people to migrate – leaving them "extremely vulnerable" to continued impacts and increased poverty, new research finds.
---