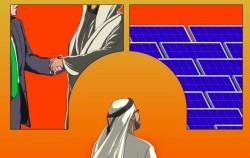 5 Apr 23 - In the months before the signing of the Paris Agreement, the then-crown prince of oil-rich Abu Dhabi wondered aloud about the fate of his sheikhdom at the end of the fossil fuel era.
9 Mar 23 - A top oil company CEO who will lead international climate talks later this year told energy industry power players on Monday that the world must cut emissions 7% each year and eliminate all releases of the greenhouse gas methane — strong comments from an oil executive.

22 Nov 22 - Given an energy crisis in Europe and progress made in helping climate victims, the new climate chief for the United Nations said he'll settle for a lack of new emissions-cutting action coming out of the now-concluded climate talks in Egypt.

21 Nov 22 - A climate diplomacy historian says the end of COP27 marks a historic day for Pacific diplomacy, but also a disaster for Pacific nations.

21 Nov 22 - A historic deal has been struck at the UN's COP27 summit that will see rich nations pay poorer countries for the damage and economic losses caused by climate change.

21 Nov 22 - The COP27 climate conference in Egypt may be remembered as the moment when the world gave up on limiting global warming to 1.5 degrees Celsius, the most ambitious goal set by the 2015 Paris Agreement.

18 Nov 22 - Men usually outnumber and outrank women negotiators in climate talks, except when it comes to global warming'sthorniest diplomatic issue this year — reparations for climate disasters.
---
18 Nov 22 - Global climate talks in Egypt are entering their final stretch, and so far, delegates have made little progress on the biggest climate questions facing humanity.
18 Nov 22 - China's climate envoy Xie Zhenhua unexpectedly dropped in on a Cop27 ministerial meeting led by the US and the EU, raising hopes that the world's largest emitter will renew cooperation around methane...
17 Nov 22 - Climate change minister James Shaw told delegates at COP27 in Egypt yesterday, that New Zealand was developing an indigenous framework for climate action led by Māori, for Māori.
17 Nov 22 - The past week has given the world a glimpse of what climate-vulnerable countries have long known: while rich countries bend over backwards to pledge their support for climate action, they are far...
17 Nov 22 - The EU is open to creating a new funding stream to help victims of climate disaster recover – as long as China contributes.
17 Nov 22 - Belize is one of the world's most culturally diverse countries, comprised of Creoles, Mayans, and Mennonites. Tourism is the primary economic driver, with people coming to snorkel in its clear ocean...
17 Nov 22 - There's some hocus-pocus going on with the emissions reduction numbers the European Union is proudly touting at the COP27 climate summit, climate campaigners allege.
16 Nov 22 - Less than a week after the government boasted of being one of just three countries in the world to commit to loss and damage funding, New Zealand has been awarded the 'fossil of the day award' for...
16 Nov 22 - Ugandan climate activist Vanessa Nakate slammed world leaders Tuesday who persist in backing new fossil fuel projects despite science warnings that this will push temperatures across the planet to...
16 Nov 22 - The Coca-Cola company, one of the sponsors of the COP27 summit, has been named the worst plastic polluter for five years running, as per a global brand audit report by 'Break Free From Plastic'.
16 Nov 22 - The world's three largest rainforest nations Brazil, Democratic Republic of Congo and Indonesiaon Monday formally launched a partnership to cooperate on forest preservation after a decade of on-off...
15 Nov 22 - A G7-led plan dubbed "Global Shield" to provide funding to countries suffering climate disasters has been launched at the United Nations COP27 summit, although some questioned the effectiveness of...
---