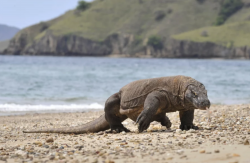 6 Sep 21 - Scaly and with forked tongues, Komodo dragons are the largest lizards to still walk the Earth. But their days here may be numbered because of climate change a new report claims.

3 Sep 21 - With electricity becoming a scarce commodity, thousands of well-off Lebanese are rushing to alternative energy.

31 Aug 21 - The Singapore Exchange will ask all companies listed on its exchange to disclose climate-related information or explain why they cannot do so.

24 Aug 21 - A new study that looked at climate change models has predicted that with rising temperatures, the burden of crop diseases will increase in some parts of the world and fall in others.
17 Aug 21 - Steelmaking giant ArcelorMittal has announced plans to cut its carbon intensity by a quarter by 2030 from 2018 levels, backed by $10 billion investment over the next decade to help support its transition away from fossil fuels towards greener manufacturing technologies and clean energy sources.

12 Aug 21 - Indonesia should make permanent its temporary ban on new permits for oil palm plantations to advance progress on tackling deforestation and meet its climate goals, environmentalists say.

11 Aug 21 - If the Intergovernmental Panel on Climate Change (IPCC) report was just about rushing countries to cut their carbon emissions to avoid a climate catastrophe, India could perhaps afford to look the other way.
---
6 Aug 21 - The Korean Presidential Committee on Carbon Neutrality yesterday unveiled three options for reducing carbon emissions by 2050, but only one of them achieves carbon neutrality.
4 Aug 21 - Israel has announced it will introduce a carbon tax from 2023, with the tax initially applying to just coal, liquified petroleum gas, fuel oil, petcoke and gas.
2 Aug 21 - China and India, among the world's worst offenders for emissions, have failed to submit updated target proposals to curb the release of carbon dioxide.
28 Jul 21 - Climate change is threatening to end Afghanistan's 'historical cradle' of world pomegranate production.
26 Jul 21 - India has urged the G20 countries to bring down per capita emissions to the global average by 2030 in view of the "fast-depleting available carbon space".
2 Jul 21 - Bangladesh has cancelled plans to build 10 coal-fired power plants, a government official said on Monday, amid rising costs for the fuel and increasing calls from activists to base more of the...
28 Jun 21 - The world's first industrial cultured meat facility has opened in the city of Rehovot, Israel.
18 Jun 21 - The United States is ending a Cambodian aid programme aimed at protecting one of its biggest wildlife sanctuaries, citing worsening deforestation and harassment of those who speak out about...
17 Jun 21 - Singapore is launching a carbon trading marketplace focused on nature conservancy projects, a move that could protect at-risk tropical forests in the region while unlocking a ready source of carbon...
17 Jun 21 - Kimiko Hirata has spent nearly half her life fighting to wean Japan off its dependence on coal, and now isn't the time to slow down, the award-winning activist warns.
16 Jun 21 - Switzerland has agreed in principle to offset part of its carbon emissions reduction target by supporting green projects in Thailand.
15 Jun 21 - Kyrgyzstan has plans to increase meat production by 4 per cent while cutting GHG emissions by 17 per cent.
---