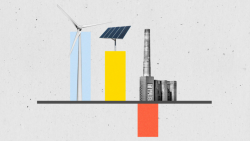 Thursday - For centuries, fossil fuels have been associated with prosperity, progress, and growth. But more and more economists say that the continued use of coal, oil, and gas is now driving the world in the opposite direction — toward a lower standard of living and a global economic slump.

Wednesday - None of the G20 countries have made climate commitments consistent with limiting global temperature rise to 1.5 degrees Celsius, as the Paris Agreement stipulates, data from a new report showed

Tuesday - Countries have agreed on the need to put a carbon price on shipping emissions after more than a decade of resistance, which campaigners have hailed as a "major breakthrough".

Tuesday - Cutting methane sharply now is crucial, as focusing on carbon dioxide alone will not be enough to keep rising temperatures within livable limits, scientists have warned.

Monday - HSBC Asset Management global head of responsible investing Stuart Kirk has questioned the risk climate change plays for financial markets, arguing that it is not one investors should worry about.

Monday - If you've got $125k in the financial system, it's doing as much damage as your cooking and your heating and your flying. These are the most important new climate numbers for many years

20 May 22 - In Pennsylvania, Big Dog Energy LLC has installed 30 gas-fired generators at one of its gas well pads in Beccaria Township, using the electricity they produce in an ingenious, profitable, and possibly environmentally-damaging pursuit—mining the cryptocurrency known as bitcoin.
---
19 May 22 - Since the turn of the century, global deaths attributable to air pollution have increased by more than half, a development that researchers say underscores the impact of pollution as the "largest...
19 May 22 - Four key measures of climate change hit record highs last year, the United Nations said yesterday.
19 May 22 - Without even a touch of the steering wheel, the electric car reverses autonomously into the recharging station.
16 May 22 - Rising concerns over energy security and climate change will galvanize record new capacity to generate renewable power in 2022, the International Energy Agency has forecast.
16 May 22 - The number of big polluters setting targets to cut CO2 emissions has reached a "critical mass", a UN-backed report has said.
13 May 22 - Making big promises at the COP26 climate summit in Glasgow was hard; six months later, governments are finding out that actually following through on them is even harder.
12 May 22 - Right now in India and Pakistan, a record-breaking heatwave is impacting the daily lives of nearly a billion people. Scorching temperatures are damaging wheat harvests, preventing many labourers from...
12 May 22 - The world's biggest fossil fuel firms are quietly planning scores of "carbon bomb" oil and gas projects that would drive the climate past internationally agreed temperature limits with catastrophic...
12 May 22 - What do you do to decrease your carbon footprint? Believe it or not, that's just the question the fossil fuel industry wants you to ask yourself.
12 May 22 - Some of the world's largest corporate emitters face the prospect of a shareholder rebellion this month, with climate-related votes poised to spike throughout the proxy season.
11 May 22 - The international aviation industry has failed to meet all but one of 50 of its own climate targets in the past two decades, environment campaigners say.
6 May 22 - Even after last year's 13% decline in global coal capacity to a record low, steeper cuts are needed to keep global heating below 1.5°C, finds a new report by Global Energy Monitor. But the effort to...
---