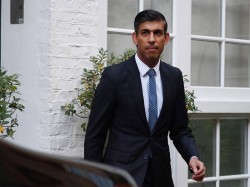 Today 10:30am - UK prime minister rejects suggestion half-day stay shows lack of 'seriousness.' Rishi Sunak defended his decision to only attend COP28 for a half a day, saying it would be wrong to "measure our impact here by hours spent."

27 Nov 23 - Nearly all the world's governments and vast numbers of its people are convinced that addressing human-induced climate change is essential if healthy societies are to survive.

14 Nov 23 - A new poll of UK businesses has found that almost three-quarters would support the introduction of a carbon border adjustment mechanism that mirrors the one coming into force across Europe.

10 Nov 23 - The 'watering down' of net zero policies 'will ensure that the number of deaths due to the impact of global heating on the UK population will keep on rising', says climate scientist Bill McGuire.

18 Oct 23 - Arrests have been made as protesters disrupted a conference at the InterContinental Hotel in central London where oil company CEOs are meeting.

11 Oct 23 - Residence-based emissions stood at 512 million tonnes of carbon dioxide in 2022 , according to Office for National Statistics provisional data.

9 Oct 23 - Green credentials used to be considered a vote-winner but rhetoric around net zero has changed.
---
4 Oct 23 - British businesses selling into the European Union are unprepared for the bloc's new carbon tax and run the risk of penalties if they are not compliant, a leading advisory firm has warned.
29 Sep 23 - Shell's CEO Wael Sawan has come under pressure over his strategy from within the energy company after two employees issued a rare open letter urging him not to scale back investments in renewable...
28 Sep 23 - The UK has given the green-light to Rosebank, the country's biggest untapped oil field, amid increasing scrutiny of the country's climate credentials.
25 Sep 23 - Rishi Sunak is likely to face a series of legal challenges aimed at thwarting his plans to U-turn on net zero policies amid further international condemnation of the proposals.
8 Aug 23 - The United Kingdom has announced the launch of its programme, Propcom+, supporting climate and growth by addressing environmental, social, and economic challenges in Nigeria's food and land-use...
3 Aug 23 - The United Kingdom now finds itself at the epicenter of global tensions between energy security and lofty climate goals, which are playing out ahead of the COP28 conference in Dubai.
1 Aug 23 - Britain commits to granting hundreds of licences for North Sea oil and gas extraction, drawing criticism from environmental campaigners.
3 Jul 23 - Britain is planning to overhaul the country's planning system to make it easier to install overhead cables and pylons, to help the government reach its net zero targets.
3 Jul 23 - New and expanded powers for British police took effect on Sunday, including measures targeting activists who stop traffic and major building works with protests.
29 Jun 23 - Government backing for new oil and coal, airport expansion plans and slow progress on heat pumps show that the UK has lost its leadership on climate issues, a government watchdog warns.
27 Jun 23 - UK Doctors warn of 'dangerous consequences' for patients and staff during extreme heatwaves, amid climate change fears.
22 Jun 23 - Ministers broke the law by failing to make plans to cut consumption of meat and dairy in England, climate activists will argue in a legal challenge after they were granted permission for a full...
---